Inside The Compound, the Bessemer Street facility of Voodoo Brewing Co., the atmosphere on Friday could easily have been tense.
More than 500 beer lovers and representatives of more than 40 beer makers were expected in just over a week for the craft brewery's second annual beer festival.
A brand new mobile canning line was proving temperamental as a half-dozen of the brewery's employee-owners wrangled the lengthy apparatus.
Voodoo CEO Matteo Rachocki was on the phone with a potential buyer for the old canning line that had recently been made redundant.
Outside the large loading bay door of the former 84 Lumber, a Federal Express driver wanted to know where to put the latest delivery of a three sixtels — metal barrels one-sixth the size of a standard keg, containing the equivalent of about 55 12-ounce bottles — of some of the finest craft beer in North America and Europe.
But amidst the excitement and the hoppy perfume, it was easy to pick up on the good vibrations happening all around — in the air, in the teamwork evident as crew members attended to the Rube Goldberg-like canning line and, most importantly, in the shiny 16-ounce cans that were steadily being fed through the apparatus in preparation for Saturday.
Good Vibes, an India pale ale hopped five times in the kettle and dry hopped twice more, is also the brew that lends its name to Voodoo's Good Vibes Beer Fest, which will be held from noon to 4 p.m. Saturday. The new canning line was expected to produce 130 cases of the festival's namesake brew for the event, with another run of Hazy Vibes, Voodoo's New England-style IPA, scheduled for Wednesday.
"We've been working since February to get it organized," Voodoo Logistics Manager Mary Sperry said inside the hangar-like beer production facility. The preparations culminate with the arrival, from Colorado, New York, Belgium, Sweden and elsewhere, of the beer that will be sampled by participants. While the beer goes down easy, the set-up required some effort, according to Sperry.
Before the beer can be tapped, months were spent lining up 25 corporate sponsors, arranging for bus transportation for participants, securing lodging involving a significant percentage of all of the hotel rooms and Airbnb units in the Meadville area plus dozens of dorm rooms at Allegheny College.
"We do it in Meadville because it's our hometown, too," Sperry said. "As much as it's a fun party for us to throw, it's a nightmare arrangement — but it's also about bringing people into town."
The beer they bring into town is what brings those people — beer that the typical resident of northwestern Pennsylvania would not otherwise be able to taste without accumulating a great deal of frequent flyer miles.
The list of 41 breweries that will offer samples at the festival is likely to include names almost entirely unfamiliar to the average Coors Light-aficionado — and that's by choice, according to Rachocki. While there are plenty of great craft brewers right here at home, their bottles can easily be found on the shelf of the nearest distributor or at other nearby festivals. The same cannot be said for the "incredibly noteworthy worldwide breweries" that will be represented Saturday, Rachocki said.
"For our customers that support us all year long, it's really cool to have something that they can come to and enjoy beers that are normally very hard to acquire," he said. "You can have access to things you can't normally get your hands on."
Lisa Boldt and her husband, Brandon Boldt, owners of Primitive Beer in Longmont, Colorado, will be among the beer makers serving styles that are not available on local shelves. At this point, Primitive's brews are not even available in bottles or cans at all.
The Belgian Lambic-style beers that the Boldts produce are sold in bags-in-boxes — like the often inexpensive flavors of wine many are familiar with, but not so cheap. That's because this beer is produced following the traditional rules of Belgian brewers, Lisa Boldt said, which means spontaneous exposure to wild yeast rather than the typical introduction of carefully cultivated brewer's yeast, and then aging it in oak barrels for years.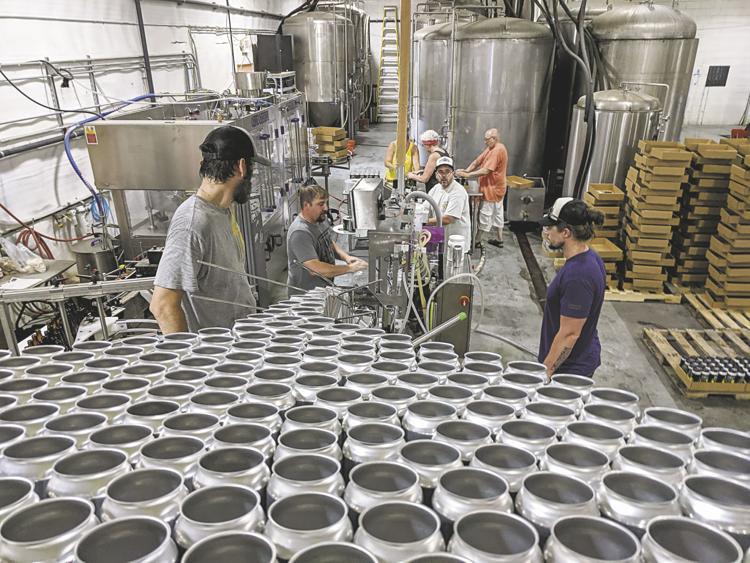 The two-year-old beer that the Boldts will serve at the festival features a strong body with lemon and honey notes, she said, and a definite tartness.
It's not exactly Budweiser, according to Boldt, but "we really like it."
It's also purposefully still — which is to say that, unlike virtually all of the beers familiar to the average American beer drinker, it's not carbonated and, at 55 degrees, it's served a bit warmer than the typical macrobrew.
Bubbles lie in the beer's future, Boldt said, but the recently founded Primitive had to wait until it had two-year-old beer before beginning its bottling program. Once they begin blending vintages of different ages, the beer will last for 20 years in the bottle, she added.
The trip from Longmont to Meadville promises to be a highlight for the Boldts, who are attending Good Vibes for the first time.
"I've heard nothing but good things," Boldt said. "It's a community of very passionate brewers and beer enthusiasts who are excited about some of the weirder and more exotic types of beer being produced." 
Mike Crowley can be reached at 724-6370 or by email at mcrowley@meadvilletribune.com.