When Alaina Webster brought her pig Batman to the 2020 Pennsylvania Farm Show, she knew she had a good hog on her hands. Maybe not a grand champion winner, but one that could at least be competitive and win a few titles.
Fortunately for her, she would end up being wrong.
The 13-year-old girl from Crawford County claimed the grand champion banner for market swine at the show, one of the highest honors she has ever received in her seven years of competing. Webster is a member of the Champion Drive 4-H group and regularly takes part in local, state and national competitions.
While certainly not new to the world of high-level farm shows, getting the grand champion title was something of a surreal experience. Webster was happy enough when she claimed a few lower division titles at the state show.
"When I got my first plaque, I was like 'Whoa, I did it,'" Webster said.
More accolades and victories came her way throughout the show until, eventually, she heard her name called as the grand champion.
"It was amazing," she said.
Hailing from Venango, Webster competes alongside her 12-year-old sister, Adriana "AJ" Webster. According to their mother, Jean Webster, the girls maintain a sibling rivalry.
"They can't work in the barn together," Jean said with a laugh.
The girls got into the world of competitive swine showing through their mother, who competed herself as part of 4-H when she was younger. Jean would show her swine at the Crawford County Fair, and it was a tradition she hoped to pass down to the next generation.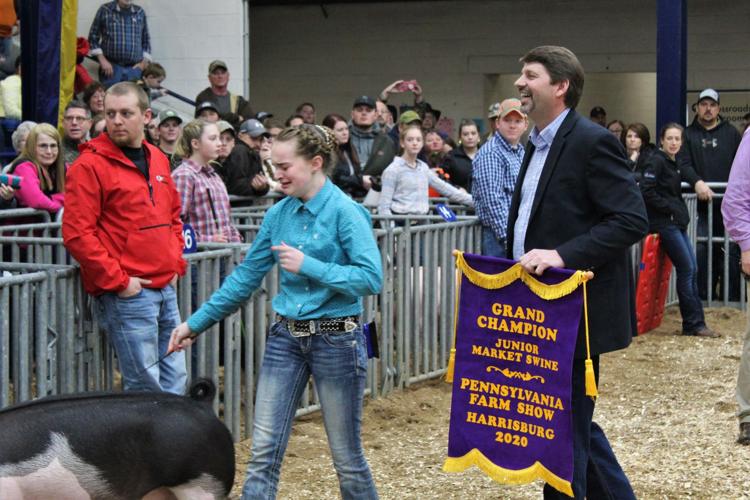 "It was always my dream to have my kids do it," Jean said.
Initially focusing on more local competitions, Alaina and her family started competing at higher levels when they met Paula and Brian Miller at the Crawford County Fair one year. The Millers took their own kids to national contests regularly and convinced the Websters to do the same. Soon, both families were traveling together to various states, competing in shows across the U.S.
While the Millers' kids have since aged out of competition, they still support Alaina and Adriana in their own efforts. Competing in national contests involves a lot of driving, with Alaina competing in places like Kentucky, New York and Iowa. In fact, just a week before the Pennsylvania Farm Show, Alaina was competing in London, Ohio, where she claimed a reserve champion in her pig's weight division.
The swine who won the grand champion banner, Batman, 6 six months old and weighed a hefty 258 pounds. He earned his name, according to Alaina, due to a white spot on his skin that looked like the Batman logo.
"He was very sweet. He was easy to train," Alaina said of the swine. "He never gave me any problems."
Alaina said Batman had a square, stout frame and was really good on his feet, making him ideal for competitions. The pig, however, had an odd quirk of sticking his tongue out whenever he was being shown.
It takes a lot to raise pigs. Every day, after school, Alaina heads down to her family's pig barn to clean out the pens. Once that's done, she goes to her house to do homework, only to return to the barn afterward to feed the swine.
Any pig she plans to compete with must also receive training, getting them used to being around Alaina and adjusted to going on walks. They are also rubbed with special oils to make their skin and hair "pop," according to Alaina.
"It's not difficult, but it's a lot of work and it's a lot of time in the barn," Alaina said.
Even with the large workload, Alaina hopes to keep competing for as long as she can and, possibly one day, pass down the tradition to her own kids, much as her mother did.
"This is not a hobby," Jean said of the family's involvement in raising swine. "This is our life."
Alaina was not the only Crawford County resident to win big at the Pennsylvania Farm Show. Her sister won a champion banner with her Yorkshire pig, while Chelsey Freyermuth took home a champion title with her duroc.
Taking home champion or reserve champion titles in beef cow showings were Kali Rankin of Centerville; Madalyn Rankin of Centerville; Jackson Mattocks of Guys Mills; Ryan Mattocks of Guys Mills; Nolan Schmidt of Conneautville; Walker Dunn of Cochranton; Josh Schmidt of Conneautville; Donald Baron of Saegertown; and Nathan Weber of Saegertown.
Sean P. Ray can be reached at 724-6370 or by email at sray@meadvilletribune.com.