WEST MEAD TOWNSHIP — It was a day for budding farmers and 4-H enthusiasts Friday at the Crawford County Fair.
The 47th annual 4-H and FFA Market Livestock Auction brought 140 animals for eager bidders. The majority of the auction featured swines, but steers, goats and sheep were also led before the auction block.
While showing and bidding was the order of the day, there were two moments that brought out the community spirit of the fair.
There was a moment of silence at the beginning of the auction for Aaron Schultz, a parent of one of the 4-H kids showing swine who was killed Sunday while trying to help a stranded motorist. A separate moment was observed for Bruce Hills, a longtime volunteer who served as the livestock auction gatekeeper.
Members of the Hills family were in attendance and received plaques. A sign was affixed to the gate, which read "Forever reserved for Bruce Hills, livestock gatekeeper." 
Later, the hog that belonged to Schultz's daughter, Lillian, was brought to auction by a friend, Riley Zimmerman, and the host Shenna Peters noted Schultz's passing. The bidding climbed and climbed until the 271-pound hog was sold for $43 a pound — $11,653. A long list of community members and businesses pitched in to cover the costs.
"I was very happy," Zimmerman said. "It'll help out a lot. I was very surprised and happy that they came together to help us. I'm very happy she received this much. It means a lot to me."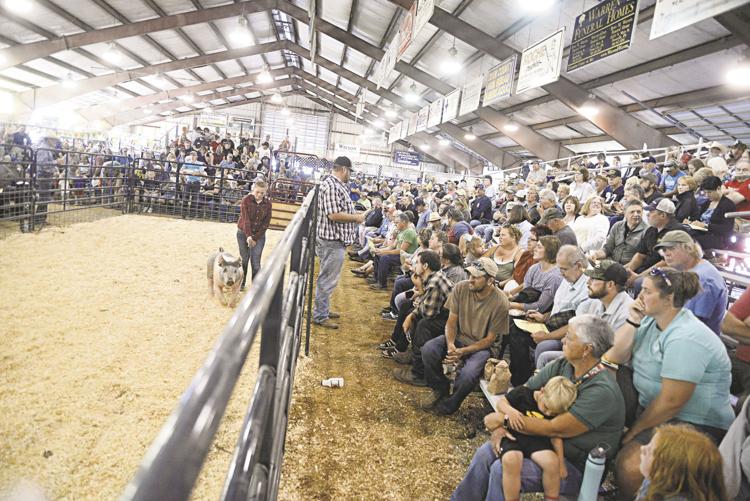 Alaina Webster's swine, at 240 pounds, was named grand champion this year and was sold for $5 a pound. Reagan Dunn of Fairfield Township took home $18 for each pound of her 273-pound reserve champion hog. 
Dunn, 15, said she would remember the experience "forever" and wanted her kids to have a market hog and participate in the fair. However, she said she wanted to try market goats and wasn't sure if she would go back to swine.
"This is all really exciting," Dunn said. "This is my first year showing a pig. It's just been a really great experience. I just didn't want to get last. We had talked to a lot of buyers, but we didn't really know it would go for that high."
Regardless of which animal she chooses next year, Dunn was enthusiastic about showing pigs and sticking with 4-H.
"If anyone ever has the opportunity to show a pig or have pigs, do it," Dunn said. "Honestly, it's been so amazing."
Curtis Caldwell, 13, of Cambridge Springs was also excited that his 244-pound hog named Burt Reynolds took home $5.15 per pound, a level he had never previously reached. He said he enjoyed finding out the characteristics of each pig and said he would continue his seven-year streak of showing them at the fair.
"I'd like people to know just how hard these people work to bring these pigs out here and keep them under control," Caldwell said.
Kaitlyn Gage of Saegertown took home two scholarships at the auction, including the Joe Manross Memorial Scholarship. Now a junior studying speech pathology at Clarion University of Pennsylvania, she had shown animals at the auction for 10 years.
"I knew (Manross) personally, and I loved Joe," Gage said. "He's a huge mentor and showed me a lot about how to be around the pigs and what to do with them. Having that extra money to help pay for that education and know that it's in his memory to keep pushing to go further makes me feel really good to know I have it."
With 88 pig entries in this year's auction, the event stretched on into the night. Houston Mattock's grand champion steer was sold for $5 a pound, while Jaiben Walker's reserve champion steer also fetched $5 per pound at the auction.
Tyler Dague can be reached at 724-6370 or by email at tdague@meadvilletribune.com.