CAMBRIDGE TOWNSHIP — Could Restore Pennsylvania be what Crawford County needs?
Two administrators from the Pennsylvania Department of Transportation came to the PennDOT Stockpile off Route 99 in Cambridge Township on Monday to discuss how Restore Pennsylvania, Gov. Tom Wolf's statewide plan to aggressively address the commonwealth's infrastructure, could improve roads across the county and region.
George McAuley, deputy secretary for highway administration, and Jim Foringer, PennDOT northwest region District 1 executive, explained the critical need for funding to stave off further road deterioration from "fair" and "poor" quality levels.
Among many goals in the Restore Pennsylvania plan, including brownfield and industrial cleanup, increased rural broadband internet access, severe weather preparedness and addressing blight, secondary and rural road maintenance remains a key element. Wolf proposed a new severance tax based on natural gas production to fund the plan.
In the PennDOT District 1 region, which encompasses Crawford, Erie, Forest, Mercer Venango and Warren counties, there are 2,387 miles of roadway used by fewer than 2,000 vehicles each day, and 17 percent of those roadways are considered "poor." In Crawford County specifically, 26 percent are considered "fair," causing concern for their long-term condition.
Also, extensive rain and flooding have become major factors in PennDOT repairs in the northwest region. According to Foringer, the weekend of July 19 dumped four inches of rain in 7 1/2 hours in Crawford and Venango counties, costing $2.5 million in repairs.
"Last year was record-breaking for us," McAuley said. "$125 million we spent on flood damage recovery and major flood repairs. Normally, we only budget $30 million for that. So far in 2019, we've already spent nearly $42 million in emergency response. That didn't include the last part of July."
Should the Restore Pennsylvania plan pass by the end of the calendar year, McAuley said they would begin work on the first of next year with plans ready to move forward.
"To the districts' perspective, we've been asking them to develop plans for secondary roads statewide," McAuley said. "We had some funding aligned to do that last year, and plans were developed, yet the flood impacts — the $125 million — caused us to pull the money back. We know where the needs are."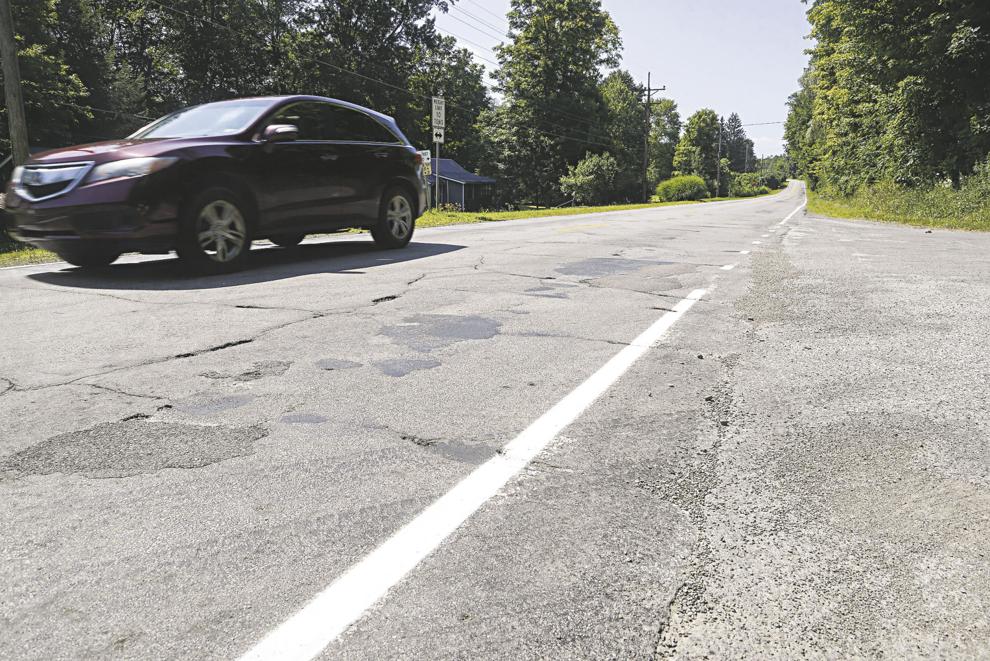 PennDOT spokeswoman Jill Harry said Plank Road nearby would be the first to receive attention. Foringer explained that repairs to secondary roads in Crawford County have been deferred due to rising costs.
"These roads are really where we've had to delay our applications due to the funding and try to hold them together with maintenance-type repair work," Foringer said. "Plank Road, in particular, we spent $500,000 over the past 10 years just holding it together."
In regards to PennDOT using gas tax funds and driver revenue to cover costs associated with state police forces at greater percentages than infrastructure, McAucley said the department has made "adjustments" in favor of maintenance. He also said the state assembly would have to figure out to use general funds to cover state police rather than PennDOT monies.
"Even when Act 89 (which focused on transportation infrastructure funding) was passed back in 2013, it was not meeting the study that was done and the needs of the time," Foringer said. "Now, on top of that, you also have statewide, we're losing $100 million a year of buying power due to inflation. And our maintenance budgets haven't been increasing since the late '90s."
"I think it's also a testament to how we continue to become efficient. It's been a herculean effort on everybody's part."
Tyler Dague can be reached at 724-6370 or by email at tdague@meadvilletribune.com.