Their product pitch complete, three ninth graders took their seats early Wednesday afternoon in the Meadville Area Senior High library.
They had covered a lot — the function of their prototype and potential market for the device, the cost to produce it, the pros and cons of the various competitors in the market — but they weren't done yet.
Seated across from them, a line of five judges drawn from the upper ranks of leading manufacturers in Crawford County and beyond peppered them with questions: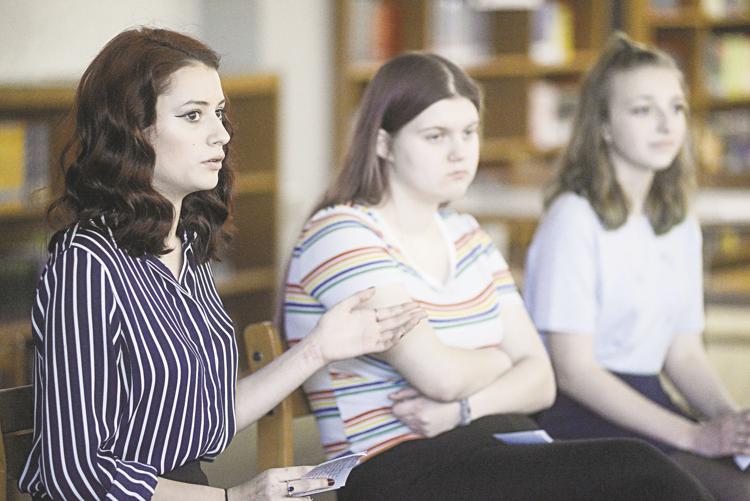 Have they considered the privacy concerns — particularly for medical data — raised by their proposal?
How will the device they envisioned send messages to its intended recipients?
How will users carry the product in its final form?
The first-ever MASH "Design Review" was not quite the grilling that would-be entrepreneurs receive when they make similar pitches before business gurus on TV, but it was still stressful enough for teenagers not used to corporate presentations.
"It's a bit like 'Shark Tank' for social good with a little engineering thrown in," Jill Hyatt said.
The two teams pitching their proposals consisted of students in Hyatt's Innovations class at MASH. The class, open to students from any grade level, draws its curriculum from Project Invent, a nonprofit that promotes hands-on problem solving by challenging students to not just conceive but to actually create technology that solves real-world problems.
"I felt that it was very nerve-wracking, but when we got up there it was a lot of fun and a great experience," said Shelby Buzzard, a senior member of the "Medical Styles" team that pitched a device designed to help people with multiple sclerosis. "I've never done anything like that. I've done presentations, but nothing ever that professional."
Adding to the anxiety was the lineup of judges: Elisabeth Smith, CEO of Acutec Precision Aerospace, and her fellow MASH graduate Doug Nelson, CEO of Lumis Corp., a Pittsburgh-based developer of simulation-based medical training equipment; Tara Krzysiak and Matt Clayton, continuous improvement engineers with Meadville Forging Co.; and Michael Brown, a design expert whose employers have included Amazon, Dick's Sporting Goods and Yahoo!
The point of bringing in the corporate heavyweights for Wednesday's presentations was two-fold: to provide constructive feedback from experts in design and manufacturing and to determine which of two product concepts class members would develop further in preparation for their travel to New York in late April for "Demo Day." There, they will join more than a dozen other high school teams from around the country in pitching actual working products to investors and tech officials organized by Project Invent.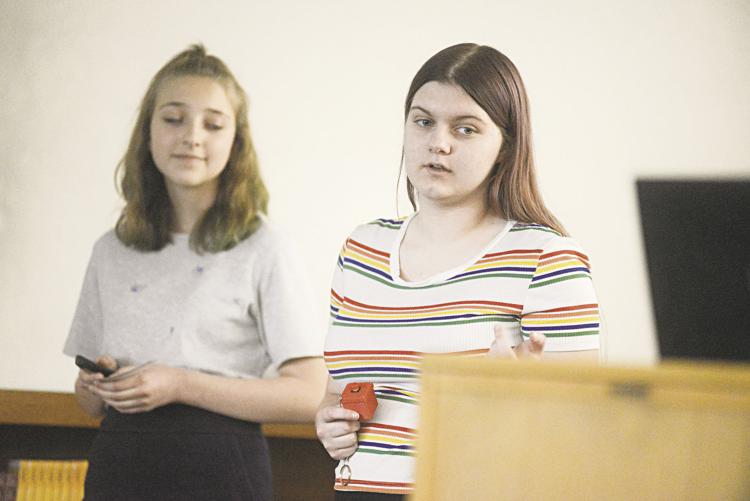 "Pulse," the device pitched by the three freshmen, was a cube about the size of a jewelry box with a button on it. Pressing the button starts a six-minute countdown that ends with the beep-beep-beep familiar from annoying alarm clocks everywhere. Another press of the button resets the countdown, this time for another two minutes, again followed by the alarm. If either alarm continues without being reset, the device sends a notification to pre-selected emergency contacts.
Inspired by the overdose death a few years ago of the 27-year-old mother of one of the team members, what at first sounds like an experiment in snooze-button technology was designed to serve a much more serious purpose: to provide a safety net for users of illegal drugs in the event of an inadvertent overdose. If the user is unable to rouse themselves to reset the alarm, someone they know will be alerted to check on the situation.
And, far from being intimidated, the young women were ready with answers for the questions they received, explaining how their considerations of privacy had influenced the design and their plans to add a SIM card that would allow their device to communicate through cellular networks.
And that wasn't even the winning pitch.
Top honors went to the "Medical Styles" team, which partnered with a community member who has multiple sclerosis. Team members came up with a wearable sleeve-like device that monitors body temperatures in order to help people with MS avoid the debilitating pain and fatigue that can be triggered by overexertion. Since MS can sometimes cause numbness or tingling sensations, they equipped the sleeve with a tiny motor that makes it constrict as a warning to people wearing it that they need to slow down.
The presentations from both groups, according to Lumis CEO Nelson, were impressive.
"I've seen a lot of this design thinking happening over the last five to 10 years in higher education," Nelson said, "and to see it being developed at the high school level — I mean, we had a team of all freshmen presenting today. That's really encouraging to see."
Similarly, Smith looked to colleges for context, comparing the event to others she had seen at the University of Michigan and Penn State Erie, The Behrend College. The students who participated were learning valuable skills, according to Smith. Most importantly, she added, they were learning "how to approach a problem."
"Not what you can make from technology, but what's the problem you want to solve?" Smith said. "Working at it from that direction — so not just hammering things because you have a hammer, but what do we actually need to do here?"
After the judges turned in their scorecards and Hyatt announced the "Medical Styles" victory, members of the winning team were energized. They'll be joined by the three ninth graders from the "Pulse" team as all 10 students work to make the project a reality over the next few months.
"I actually loved it," sophomore Madison Bradley said of the "Shark Tank" atmosphere. "I loved getting feedback and I like being challenged."
Mike Crowley can be reached at 724-6370 or by email at mcrowley@meadvilletribune.com.