Instead of using pesticides, the Erie National Wildlife Refuge is using a natural solution to control an invasive plant species — goats.
Since June, a herd of goats has been helping to manage multiflora rose, an invasive perennial shrub in one of the refuge's forests. Multiflora rose is native to eastern Asia and has been in the U.S. for more than two centuries, according to the U.S. Department of Agriculture.
The goats have been a tremendous success, according to Melissa Althouse, a wildlife biologist at Erie National Wildlife Refuge.
"This is our first time doing this," Althouse said. "They've covered a lot more ground than we anticipated. We thought they might clear half an acre to an acre and they've already cleared three acres so far."
The goats are penned inside a portable electric fence that covers an area of about a third of an acre. The goats then do what they do best — eat.
Depending on the multiflora rose density, it takes the goats about five to seven days to trim it down before they're relocated to the next area, Althouse said.
"The reason they like multiflora rose — a plant with thorns — is plants with thorns have higher sugar content in their leaves," Althouse said. "That makes it very attractive to the goats. They'll aim for the plant we want to get rid of, which is great."
Invasive, non-native plants like multiflora rose can grow quickly and crowd out native species because they don't have a strong natural check like insects or disease, Althouse said.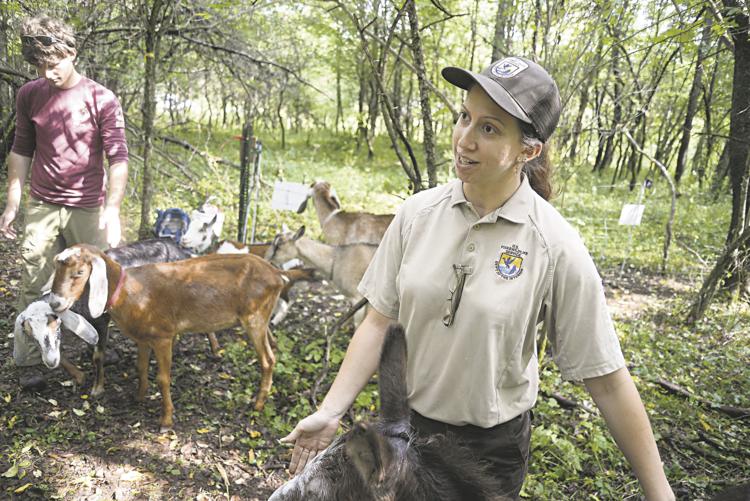 The project started two years ago when the wildlife refuge contacted Allegheny College about surveying the multiflora rose and to recommend non-chemical ways to eliminate or control it.
"The refuge needed to quantify the extent of the problem, and this seemed like a perfect project for a sophomore-oriented research course," said Rich Bowden, a professor of Environmental Science and Sustainability at Allegheny. Bowden had students from his environmental research methods class conduct the survey.
"After a lot of work trudging through vast areas of thorny rose bushes, we got the data showing how extensive the problem was and then looked at possible solutions," Bowden said. "The refuge wanted to avoid using chemicals, and it's too hard to dig up these plants across large areas. But, one student found a study showing that goats could be a viable sustainable option."
One of the treatment recommendations was a herd of goats, said Brian Capron, a 2019 Allegheny graduate with a degree in environmental science. Capron, who tends to the herd daily, is working as a paid intern this summer at the Erie National Wildlife Refuge.
"The typical treatment method is herbicides, which works very well, on multiflora rose," Capron said. "The fact that this is such a wet area, there's a high likelihood of it running off into streams."
"So this is the hit team we've hired," Capron said with smile and pointing to the herd.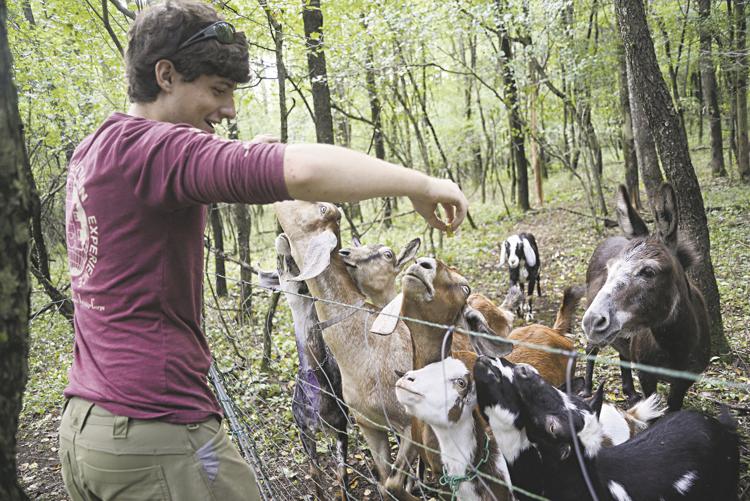 The herd is a mix of Nigerian dwarf, Nubian and Alpine breeds with a guard donkey named Diamond to scare off any coyotes or farm dogs that might wander into the area. 
"Donkey instinctively don't like canines," Althouse said.
The goats are from Allegheny GoatScape, a Pittsburgh-based nonprofit agency founded and directed by Gavin Deming, which reduces invasive and unwanted vegetation in public spaces and vacant lots, utilizing goats for browsing.
Bowden's environmental science class is scheduled to do a follow-up survey of multiflora rose at the refuge this fall.
Keith Gushard can be reached at 724-6370 or by email at kgushard@meadvilletribune.com.