Where in northwestern Pennsylvania can you find a 13-year-old who won her school's geography bee as well as its spelling bee in the past two months?
If your answer was M-A-M-S, you can advance to the next round in this story of Elena Reese, the Meadville Area Middle School student who on Friday became the first student in school history to win both competitions, according to teachers at the school.
She accomplished the bee sweep with no previous experience in the often stressful world of academic competitions, having opted out of the events as a seventh grader.
"Last year I felt like that was not cool," Reese said of the events this week while still adjusting to her newfound dual-champion status. "Now I've kind of embraced that that's who I am."
Some friends may still look down on bee season, but one thing is certain: Everything is cooler when you win.
But the winning didn't come without work. Reese said her mother and sister helped her practice for both competitions as she memorized world capitals, major cities and other geographical features for the school-wide geography bee just before winter break. For the spelling bee, Reese memorized nearly all of the words on the list of potential words provided by seventh grade English teacher Clifton Roberts, who was organizing the tournament for the first time.
"You can see some of the nerves on their faces," Roberts said of the students experiencing the pressure cooker environment of the spelling bee.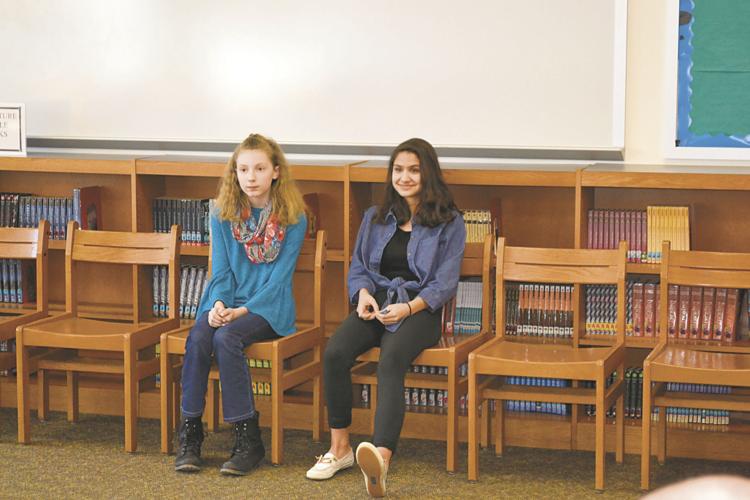 The 48th edition of MAMS' Joy Link Spelling Bee ratcheted that pressure down a bit, according to Roberts, because the cold-weather delays last week led to the event being relocated from the auditorium to the media center. Instead of family, friends, teachers and all their classmates, spellers sounded out their syllables before a more intimate audience than in past years.
Participants appreciated the alternative location, according to Roberts, but Reese would have been tough to beat in any setting.
"Elena was very impressive. You could tell she had studied really hard," Roberts said. "She was confident throughout."
Reese was still riding that confidence this week as she recalled squaring off against Faith Smith, a seventh grader, in the final round of the bee. Smith and Reese were the last two spellers standing from a final round of six seventh-graders and six eighth-graders. The event is open to the entire school, Roberts explained, but students are not required to participate.
Having watched the Scripps National Spelling Bee on TV before, Reese knew the ropes despite her lack of experience.
"I think it's pretty cool and impressive," she said of the annual tournament that airs on ESPN. "I don't know how to spell those words, if I'm being honest."
While Reese may not yet feel ready for nationals, she worked the winning strategies into her performance at MAMS.
Language of origin? Check: Reese asked Roberts, who served as the announcer — and, even more importantly, pronouncer — for a word's derivation several times.
"If you know the rules in different languages," she explained, "it's easier to know how to spell it."
Visualization? Check: Competitors at the national bee can often be seen miming the writing of a word with their fingers on the large name placards that hang from their necks. With no oversized name tags at MAMS, Reese closed her eyes and envisioned the letters.
After seven rounds of spelling, the word that made Reese the hottest star of the MAMS academic universe proved to be a familiar one: heliocentric.
"It wasn't on the list, but I knew it from science," she said, "and it's not difficult to figure out if you know certain root words."
Her victory in the geography bee proved more difficult.
After two rounds of classroom competition, 10 students advanced to the school finals held on the auditorium stage in front of the entire school as well as visiting friends and family. Reese was joined by seventh grader Xavier Swan as the last two surviving in the format similar to a spelling bee but with questions about geography instead of obscure words to spell.
The championship round consisted of three questions. In a nailbiter, both Reese and Swan missed the first two questions, leaving one question to determine the school champion:
National Geographic Explorer Richard Moreno studies jaguars and human-jaguar conflicts in places like Darien National Park, the largest national park in which Central American country?
While Swan missed the third question, Reese pulled an educated and accurate guess out of the hat: Panama.
History teacher Shane Ream, who hosted the geography bee and has Reese in class, called her a "pretty exceptional student" and said he knew she would do well in the competition.
"I was watching her as she was participating and you can tell she knows an answer as soon as she gets the question," Ream said. "You can see sort of the 'light-bulb moment' and you know she has an answer and with her you know it's probably the correct answer."
Following her geography bee victory, Reese took a written test along with her fellow winners from across the state. The top 100 will advance to the state geography bee, which is March 29 in Harrisburg.
Before she puts her geography cap back on, she will travel to Robert Morris University in Moon to compete against other spelling champs from the region on March 1.
After completing the quiz competition schedule for March, there may be one question remaining: When's the science fair?
Mike Crowley can be reached at 724-6370 or by email at mcrowley@meadvilletribune.com.