VERNON TOWNSHIP — The home of Jack Greer Memorial Post 52, Veterans of the Vietnam War Inc., turned into Santa's workshop Tuesday night as dozens of volunteers gathered for the first night of packing boxes for Christmas for the troops who are deployed.
Colorful Christmas teddy bears were stacked in boxes, and Christmas candy, garland and other decorations were spread on tables waiting to be placed in the boxes.
It could be said the boxes replace "stockings hung by the chimney" from the familiar "The Night Before Christmas" story.
But that wasn't all that was in boxes ready to be filled. A dozen or so boxes held homemade cookies — what would a Christmas box be without cookies? — and snacks of all types, from jars of peanut butter to cheese crackers to beef jerky, chips and so much more. Because of some concerns, the post can't accept homemade cookies from members of the public, so members of the post have made the homemade goodies.
Before the volunteers started packing, the first thing they were instructed to put in the box is love and prayers, said Kim Lengling, one of the co-leaders of Project Support Our Troops.
Started Dec. 2, 2001, a few months after the Sept. 11 attacks against America, the group has sent boxes overseas every month. The total number of boxes now is "tens of thousands," Lengling said.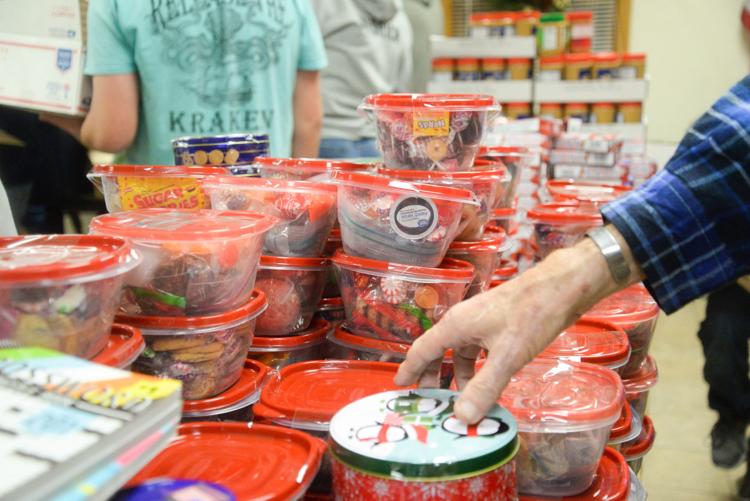 At the beginning, monthly packing had more than 100 boxes. When there were so many troops deployed, the number of boxes increased as family members or friends submitted names of men and women serving overseas. As some of them returned home, the numbers dropped.
This year, the goal is to send 400 boxes. Two hundred were packed Tuesday night and another 200 will be packed tonight starting at 6 at Post 52.
There is some concern from the leaders, Lengling and Laurie Davis, about whether there will be enough "goodies" to fill another 200 boxes.
"That's all we have right now," said Davis, pointing to the boxes of gum, candy and other snacks with some concern — wondering if that would be enough to pack another 200 boxes tonight.
As the two women talked as they worked, people were bringing in more items. Conneaut Lake Middle School students carried a number of boxes into the building as did some others. Time will tell tonight whether that will be enough.
Davis said donations may be accepted all day today at various locations or by taking them right to the post home at 13240 Dunham Road.
"Donations are still down," Davis said, noting she isn't sure why. Organizers are still confident their needs will be met. They love seeing volunteers of all ages who show up with goodies in hand and then stay to help sort the items before they pack them.
Lengling said the group "really, really appreciates" all the donations through all the years, stressing that the program operates entirely from donations.
"We could not have done it without those donations," she said.
The project takes a lot of work each month — from collecting names and making labels, to raising money, picking up the donations at various sites to packing them at Post 52. But it's worth the effort.
"We think it's important for all the men and women serving our country," Lengling said. The boxes are "good for the morale. Families, of course, send boxes, but it's important that the troops realize they are supported by people who don't even know them."
Packed between the many snacks are such things as garland and other Christmas decorations, including hand-signed Christmas cards.
"We could use candy canes," Davis said, noting they usually have lots of candy canes, but the supply is running low this year. "It helps to give them some Christmas spirit."
The group needs not just snack items but monetary donations. It cost $18.45 to send each box.
Many of the "regular volunteers" do the same job each month. Although not assigned, many just pick up where they left off the month before. Some are bringing boxes in from the storage shed, while others are sorting them and putting them out for volunteers to go around — like a buffet line — and put the goodies in boxes.
Melissa Loccisano of Meadville was wearing a sweater with Christmas lights as she sorted hygiene items, such as toothbrushes and toothpaste. She has been volunteering for about a year.
Retired Marine Paul Spring plays a vital part each month. He carries each box to Davis' vehicle each night. When the vehicle is full, the rest of the boxes are stacked and he joins Davis the day after packing when she returns with the empty car to be loaded up again. Labels are put on them, and they are taken to the post office.
"I do it because I've been there," Spring said, speaking of being deployed and away from home. "It helps the morale."
For Project Support Our Troops, the boxes are much more than snacks and teddy bears. They are love and support to those serving the U.S.
The December boxes are a small way to say "Merry Christmas" and to show support.