HARRISBURG — Pennsylvania's revitalized hemp industry is turning up all over the Pennsylvania Farm Show, with at least a half-dozen booths devoted to hemp products, ranging from CBD tinctures to kitty litter, pretzels and tea.
Pennsylvania revived hemp production in the state in 2017 with a pilot program involving 16 research projects of no more than five acres each. The 2018 U.S. Farm Bill opened the door for states to expand hemp production. Since then, the number of farms growing hemp and the number of businesses interested in using hemp as an ingredient for all sorts of products has grown dramatically, said Erica Stark, executive director of the Pennsylvania Hemp Industry Council.
"People think of hemp as being CBD or rope, but there are a myriad of uses for it," she said.
Her organization had a stand displaying many of the possible uses for hemp, including fabric, oil and as a building material.
The state's 2019 program permitted 324 growers who grew just over 4,000 acres of hemp in 55 Pennsylvania counties.
The application period for farmers interested in growing hemp this year opened on Saturday.
"The re-emergence of hemp in Pennsylvania represents a bounty of opportunity; it's in our buildings and cars, it's food and fuel, and it's power to Pennsylvania's economy," Agriculture Secretary Russell Redding said.
Unlike marijuana, hemp must maintain a much lower concentration of the chemical tetrahydrocannabinol, or THC, below the 0.3 percent legal threshold, according to the state Department of Agriculture. The agriculture department has provided a list of prohibited crop varieties that yield THC levels above the legal threshold.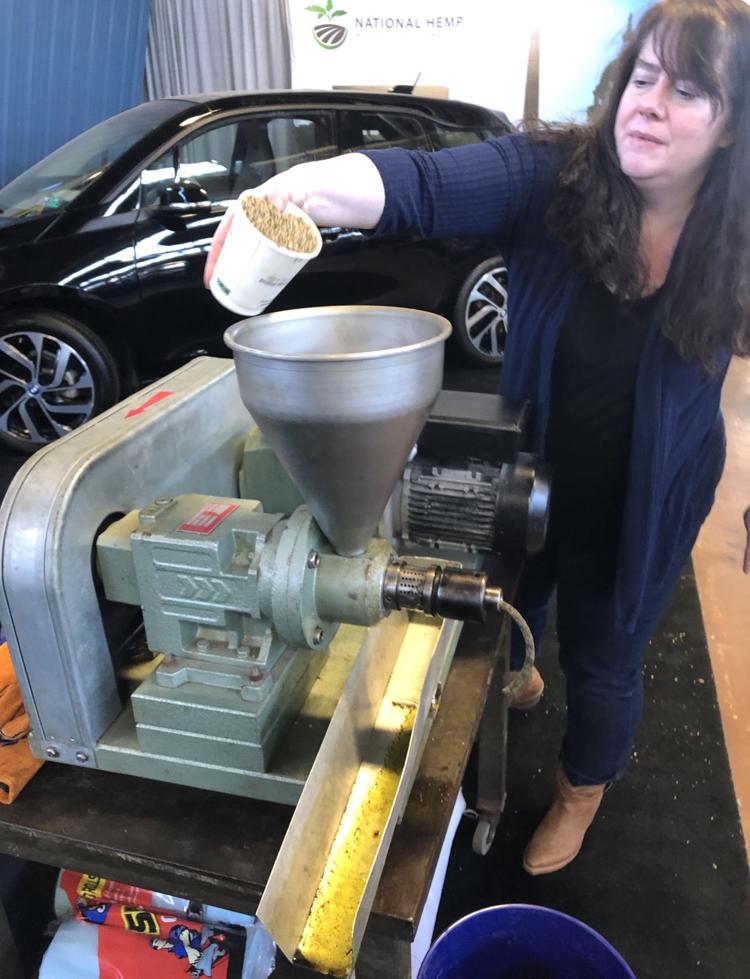 Stark said there is a "bottleneck" because the processing to make hemp into many products doesn't exist in Pennsylvania yet. Processing in this state has thus far been limited to extracting the CDB oil from the plant, she said. To get hemp processed for other products, manufacturers have had to look elsewhere, "mostly to Europe," Stark said.
As the industry prepares for new processors to set up shop, this year will be the first time that processors of hemp, as well as growers, will need to get permits approved by the Department of Agriculture. That includes processors planning to convert hemp into fiber, drying the hemp or cleaning the hemp seeds, as well as those planning to extract CBD from the hemp, according to the Department of Agriculture.
Rolling Acre Farms near Carlisle has been processing hemp to get CBD oil for about six months, said Richard Roush, owner of the farm, who had a display of CBD tinctures at the Farm Show.
Roush said the medicinal CBD industry has been hampered by the fact too many companies suggest it has benefits that haven't been proven yet. His company has been cautious and doesn't make any promises about what benefits might come from using CBD oil.
Roush said he gave away his first 100 bottles free in exchange for the promise the customers would provide feedback about whether the product helped them.
He said he didn't immediately have data on how many of those customers complained the CBD didn't help them at all. But he said customers have claimed the CBD helps them sleep, "without the grogginess" that comes from taking other sleep-aid drugs, he said. Another customer uses CBD for anxiety, he said.
In the first two days at the Farm Show, he sold 60 bottles of CBD oil, he said.
"I can't complain about the interest," he said.
Growers or processors at the Farm Show interested in the state's hemp program may visit the Department of Agriculture's booth in the Main Hall from noon to 5 p.m. today to learn more from Sarah Pickel, the department's hemp program coordinator.
John Finnerty reports from the Harrisburg Bureau for The Meadville Tribune and other Pennsylvania newspapers owned by CNHI. Email him at jfinnerty@cnhi.com and follow him on Twitter @cnhipa.