For the first time in four years, Meadville Central Fire Department is operating with a full staff of firefighters.
The newest members of the department, Tyler Cochran and Evan Kardosh, were sworn in Wednesday by Mayor LeRoy Stearns before an audience of family, friends and new colleagues during the City Council meeting.
"Hiring these two now gives us a full complement of 12, which we haven't had for the past several years, so we appreciate that," Chief Evan Hasko said after the back-to-back swearing in ceremonies led off the meeting. "These are two new good guys, and we look forward to working with them."
Cochran, a 2012 graduate of Oil City High and a 2014 graduate of Clarion University of Pennsylvania, traces his firefighting experience back to 2007, when he became a junior member of the Rouseville Volunteer Fire Department alongside his mother, father and uncle, Hasko told council. After completing his associate's degree in criminal justice, Cochran worked for five years as a 911 dispatcher for Venango County.
Kardosh brings eight years of firefighting experience to the department, having served with fire and emergency medical services organizations in Pennsylvania, Ohio and South Carolina, Hasko told council. Kardosh's experience also includes national certifications in 14 fire and rescue disciplines, including instructor, officer and technical rescue. He is a certified paramedic as well and has previously served as assistant chief of the former Crawford County Hazardous Materials Team, as a member of the Crawford County Scuba Team and with the Pennsylvania Emergency Management Agency Urban Search and Rescue Company 2.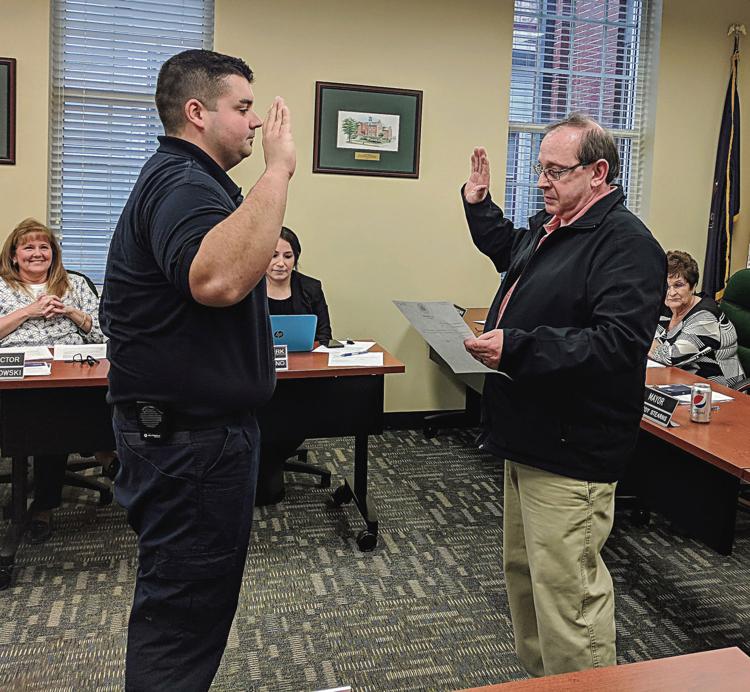 Meadville Central has worked without a full staff since retirements in 2014 and 2015 and the death of Chief Tunie Hedrick in 2014 reduced the company to 12 firefighters and a chief. The city budgeted for replacements in 2015 and 2016 but never filled the open positions. In late 2016, City Council voted to eliminate the unfilled positions and officially reduced the full complement of firefighters to 12, a move which allowed approximately $26,000 to be cut from the annual budget. At the same time, the minimum crew was reduced from four firefighters to three — a decision that was opposed by Local 515, the firefighters union.
As labor negotiations between the city and Local 515 dragged on and eventually went to arbitration, additional open positions due to retirements went unfilled. An arbitration decision in late 2017 ruled that new department hires could be enrolled in defined-contribution retirement plans, like other new city employees, instead of the traditional pension plan that Local 515 had held out for.
The ruling, which also stated that part-time firefighters no longer need meet city-residency requirements, set the stage for the recent round of hiring. The addition of a full-time firefighter and a part-timer in mid-2018 brought the department to 10 full-time firefighters and one part-timer after months of being stretched especially thin.
Mike Crowley can be reached at 724-6370 or by email at mcrowley@meadvilletribune.com.