Meadville City Council on Wednesday unanimously approved four annual payments of $2,500 to support the conversion of the Market Street location of the former Meadville Club into a community green space.
The contribution, which City Manager Andy Walker said would likely take the form of in-kind labor rather than cash funding, represents a small part of an ongoing project that Mark Weindorf, executive director of The Arc of Crawford County, estimated would total $267,000.
Much of the funding, Weindorf told council, is coming in the form of a state grant from the Pennsylvania Council on the Arts' Creative Communities Initiative. In December, the project was awarded $25,000 per year for up to four years.
"They were very, very excited about our project," Weindorf said. The Arc's grant was one of just four awarded from a pool of 105 applicants, he said.
The plan calls for public art installations, a performance space and potentially making part of Mill Run, which flows underneath the property, open to daylight. Framing the space will be a series of large murals on the walls of several buildings along with sculptures, according to Allegheny College art professor Amara Geffen, who last year led early development work through an Allegheny class and public meetings.
Much of the enthusiasm for the project from the Council on the Arts, Weindorf said, resulted from the involvement Geffen, who has previously led the installation of the well-known "Read between the Signs" and "Signs & Flowers" installations of reclaimed road signs at Pennsylvania Department of Transportation's Meadville headquarters as well as murals on Park Avenue, at Shadybrook Park and elsewhere.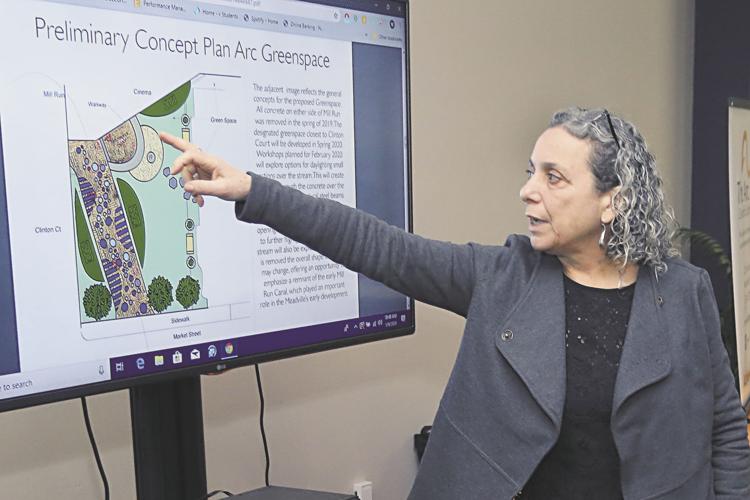 "Amara's been working so hard that I can't keep up with her on applying for other grants," Weindorf said.
Geffen said the ultimate plan for the space is still being developed and will depend largely on public reaction to the first phase. State grants typically come with the expectation of a final plan that is set in stone, according to Geffen, but the Arc was being given more flexibility.
"We don't really want to design (everything) until we get through at least one year and see how's it going to work," Geffen said. "We don't want to design something that prohibits what might be most beneficial in the site, and we know we want to do something to highlight Mill Run and make that a feature."
Immediate plans call for landscaping on a smaller section of the lot just north of Mill Run and a large mural on the western side of the Snodgrass building located at the corner of Park Avenue and Arch Street, Geffen said. The Snodgrass building borders an Arc parking lot adjacent to the former Meadville Club location.
Mike Crowley can be reached at 724-6370 or by email at mcrowley@meadvilletribune.com.