Manufacturing Day may be the first Friday of October, but in northwestern Pennsylvania it's year-round.
An annual event nationwide, Manufacturing Day highlights both the importance of manufacturing to the economy and the wide variety of careers available.
"For our companies, every day is Manufacturing Day," said Tami Adams, executive director of the Northwestern Pennsylvania chapter of the National Tooling and Machining Association, an industry trade group.
"Many of our companies are willing to open their doors to group tours," Adams said. "Kids coming through the door with their parents — that's what excites our companies."
That was the case Thursday night as Acutec Precision Aerospace Inc., an NTMA member firm, held a public open house at its Meadville area plant at Crawford Business Park in Vernon Township.
Several hundred people showed up as the aerospace firm offered guided interactive tours of its plant by employees. It was all to showcase how it makes various aerospace and power generation parts and their applications.
"This gives us a chance to show people what we do," said Elisabeth Smith, president and chief executive officer at Acutec. "It's great to see a cross section of people — young people with kids, older folks and retirees — come out."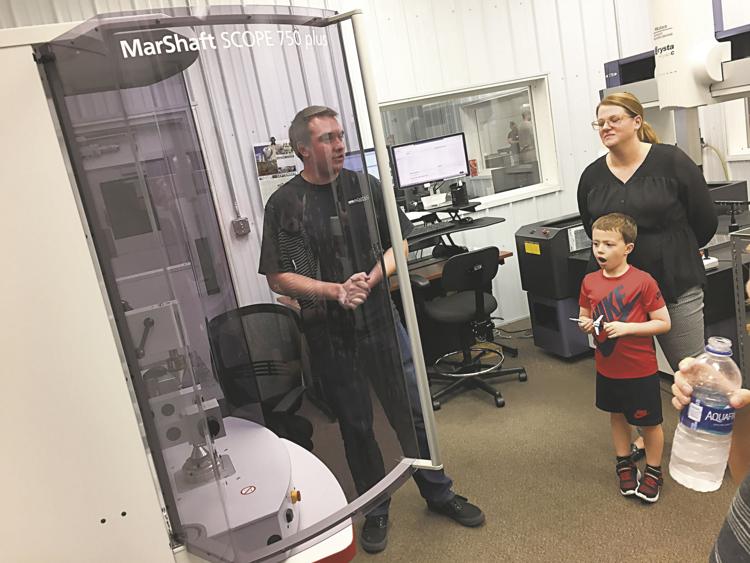 "It really gives us a chance to show manufacturing isn't dirty," said Aaron Patterson, plant manager.
Acutec also had a number of other displays, including an interactive display on Crawford County's manufacturing history and a display from the Crawford County Historical Society of a Mercury space program-era spacesuit.
The goal of open houses like Acutec's and others is to inspire the next generation of manufacturers, according to Adams.
"There are a lot of different careers available," Adams said. "They can be direct in operating manufacturing machines, but there are careers in business, robotics and design and engineering."
The Northwestern Pennsylvania chapter of the NTMA has about 60 tooling and machining companies in Crawford, Erie, Warren and Venango counties and has about 120 companies as members overall.
In the region, the Erie-based Manufacturer & Business Association began a local Manufacturing Day celebration in 2015 at the Bayfront Convention Center in Erie with about 500 manufacturers represented and 1,500 area students, teachers, parents and business leaders attending.
In 2016, the NTMA chapter began partnered with the Manufacturer & Business Association in holding the Manufacturing Day celebration in Erie.
From 8 a.m. to 1 p.m. Wednesday, the Bayfront Convention Center will host a celebration of manufacturing and technology with interactive displays and exhibits plus educational breakout sessions.
Exhibits and displays will include three-dimensional printing, robotics, CNC (computer numerically controlled) machining, drone technology and other technologies.
"There's going to be a lot of 'hands-on' time with manufacturing for the students, which is what they like," Adams said.
Plus, breakout sessions for attendees will allow them to talk industry experts about scientific problem solving, exploring manufacturing innovation, apprenticeships and the high-paying jobs available in manufacturing.
The event is expected to attract more than 2,000 students and visitors from around the region.
Keith Gushard can be reached at 724-6370 or by email at kgushard@meadvilletribune.com.