What's so cool about manufacturing? Is it the innovation of skilled technicians? The hum of efficient machinery? Or something else?
That's the question for the second year of the "What's So Cool About Manufacturing?" contest, produced by the Northwest Industrial Resource Center (NWIRC). The contest partners a team of seventh- and eighth-grade students, a teacher coaching the team and a local manufacturer.
Teacher-coaches from the 19 schools involved with the contest attended a training in October to kick off the contest, giving them a curriculum guide and advice on choosing team members and planning a project timeline. The teams have to create a marketing plan and record a video about their industry partner.
The student-produced videos will be uploaded online at whatssocool.org in the Northwest PA section the week of March 4 for viewers to decide their favorite. Voting will be open to the public on the website March 11-13.
This year marks the first time Crawford County is included in the competition with Erie County. Last year's competition with Erie schools drew 37,400 total votes. Crawford's schools involved include Cochranton Junior-Senior High School with Channellock; Conneaut Lake Middle School with Pennco Tool & Die; Maplewood Junior-Senior High School with Mecal by Starn; Meadville Area Middle School with Acutec Precision Aerospace; and Saegertown Junior-Senior High School with Greenleaf Corp.
"The students that are involved hands on — it's really educational for them on a lot of fronts," said Laurie Knoll, marketing specialist for the NWIRC. "Not only are they learning about manufacturing in our community, but many of them are learning a brand-new skill in interviewing, being professional within an interview, taking video and editing."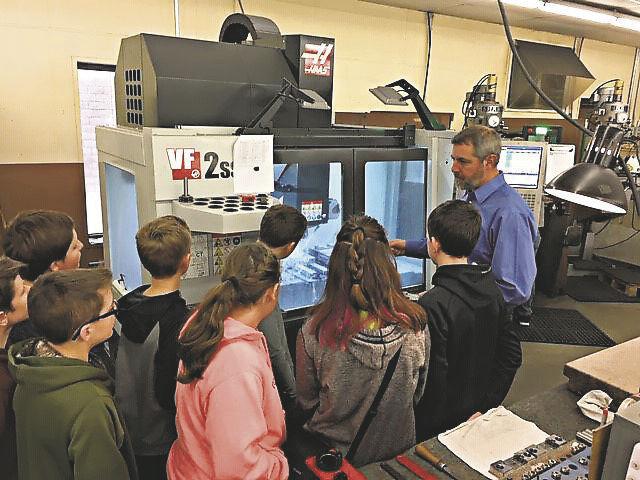 Knoll got in touch with Eileen Mullen, program coordinator for the Crawford County K-12 Career Education Alliance, who then reached out to middle schools and industry contacts whom she works with regularly.
"I'm really excited that Crawford County is included," Mullen said. "This is just another great way to connect with schools and get students thinking at an earlier age about possible careers in manufacturing. I really hope the community gets behind it and votes for our students." 
The Crawford County Career & Technical Center also got in on the contest when Principal Mike Costa met with Knoll and Mullen about crafting a new trophy along with help from Meadville's Precision Manufacturing Institute. The new trophy was inspired by the contest logo, which prominently features a robot arm.
"We're proud to be part of it," Costa said. "When they have to go out and study and research and do a video on what they do in these organizations, that are assets to our community, it helps students understand we're not laborers. These people are technicians. We're starting to turn the page on that negative perception."
The contest will wrap up with an awards ceremony on March 21 at Edinboro University of Pennsylvania's Cole Memorial Auditorium, hosted by WJET anchor Dave Belmondo. He was chosen as the master of ceremonies for his regular TV segment, "Made in America, Made Right Here" that highlights manufacturing across the region. The categories will be judged by industry professionals in their respective fields.
"We'll be giving out awards in nine categories," Knoll said. "One of those categories is, of course, the viewer's choice award, which is selected for the most votes. It's sort of an 'American Idol'-style voting where people can vote as many times as they'd like."
The contest was created in 2013 by the Manufacturers Resource Center in Allentown. Since then, 16 regional contests have been scheduled across Pennsylvania in this school year alone, and the format has been successfully adopted in 11 other states.
Tyler Dague can be reached at 724-6370 or by email at tdague@meadvilletribune.com.