The lights were blazing and there was plenty of action between the hash marks Wednesday evening at Bender Field, but eyes were focused on the printed page rather than the pigskin. And there were plenty of eyes and pages both, zooming from left to right and flipping from front to back, respectively, as readers tackled one book after another.
More than 100 people, books and blankets in hand, descended upon the Barco-Duratz Athletic Complex for the fourth annual Literacy Under the Lights. The artificial turf that is usually home to football players and marching bands hosted readers of all ages during the free event designed to drum up youngsters' excitement about reading.
At the 10-yard line, a crowd of about a dozen people, young and old, were seated on tarps and benches as Mike Ditzenberger, principal of Neason Hill Elementary, read the October-appropriate "Curious George Goes to a Costume Party."
"At last George found a costume that was just right," Ditzenberger read. "George was a rodeo cowboy!"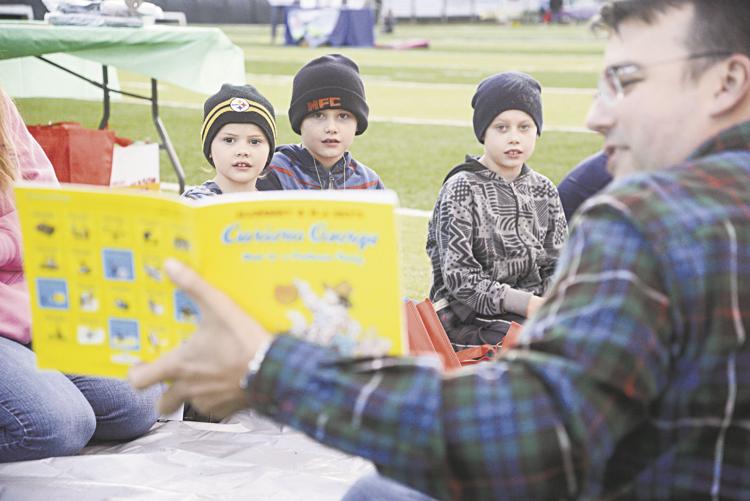 In the audience, 4-year-old Cylas Kightlinger turned his brother Matthias, 6, a grin spreading across his face, and Matthias flashed his brother two thumbs up.
The boys were snuggled together on the field with their mother and two older brothers. The family had come, Adrienne Kightlinger explained, because of the beautiful weather, the family atmosphere and the emphasis on reading.
"Kids need to read," Kightlinger said. "This is something free for the family to do. ... Reading is great, and there aren't many things that we can do as a family that are good anymore."
All four boys, she added, love to read and they were enjoying hearing their principal read aloud. The fact that they got do it on the artificial turf at Bender Field made the experience even better.
"We're always in the bleachers," Kightlinger said, explaining that the younger brothers often watch their 13-year-old brother, D.J., perform as a drummer with the MASH marching band. "He's used to being down here, but the little guys aren't, so this is very special for them."
Next up on the reading list was former Conneaut School District Superintendent Dick Astor reading "Where the Wild Things Are." As the wild rumpus began, Ann Noonen made her way among the 15 community organizations that had set up book-covered tables around the entire field.
Noonen, director of educational technology integration, grants, federal programs and community outreach for Crawford Central School District, leads organization of the Title I-sponsored and federally funded family-engagement event each year.
"We're hoping to celebrate reading and to celebrate our community partners around the theme of literacy," Noonen said. "We have folks here from pre-K through GED — lots of opportunities to get a new book or make a new friend."
Under the shadow of the nearby goalposts, Amelia Bonham-Carter, 2, was sprawled on a blanket with her father, Oliver, and a copy of "Do You Want to Be My Friend?"
"It's a good idea having these events out here," Oliver Bonham-Carter said. "I think this is a good community builder."
Turning back to the book, he explained that the pair reads before bed each night, each taking a turn.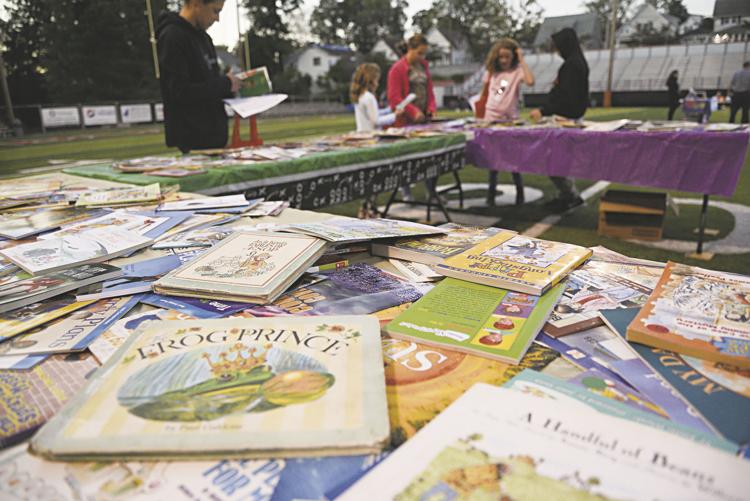 "I usually read the first time through and she reads the second time," Bonham-Carter said with a smile. "I'm supposed to be quiet the entire time while she informs me how the book should have been."
The practice, even if it produces a different ending every time, as Bonham-Carter said it tends to do with Amelia, is an important one, a voice over the loudspeaker reminded participants.
"Did you know that reading for just 15 minutes every day can help grow and support a child's brain development?" the voice asked before encouraging everyone to grab a blanket and a book and head to the 50-yard line for the "halftime huddle," a 15-minute period of reading.
By that point, most of the red bags that participants had received upon entering were heavily weighted by books, but anyone who had somehow managed to avoid being given reading material was in luck. Under the far goalpost, Marisa Lines and others from the United Way of Western Crawford County had set up several tables covered with books for young readers.
The display was part of the recently launched Meadville branch of Dolly Parton's Imagination Library, Lines said, which is open to all Meadville youth up to 5 years old. Children who enroll in the free program receive a new book in the mail each month until they turn 6 — up to 60 books for kids whose parents enroll them early.
For now, Lines said, the program is only open to families who live in the ZIP code 16335 and register in person, but if the pilot stage goes well, it will expand further. By the "halftime huddle," Lines had already signed up 10 new children to receive books through the program.
Looking toward the opposite end zone, Lines had a view of dozens of book-toting youngsters and their adults making their way down field as the moon rose over Rainbow Lake.
"It's a fun night," she said, "a beautiful night."
Mike Crowley can be reached at 724-6370 or by email at mcrowley@meadvilletribune.com.