With a catalog of adaptations spanning 80 years, a host of actresses filling the title role and numerous national and global accolades, productions of "Annie" have one striking commonality: Oliver "Daddy" Warbucks is bald.
First introduced as a character in Harold Gray's comic "Little Orphan Annie" for the Daily News in 1924, Daddy Warbucks has been presented as bald in all subsequent professional adaptations, up until the 2014 "Annie" film featuring Jamie Foxx as the New York City billionaire, Will Stacks, with hair on his head. But before Foxx's portrayal, Edgar Kennedy, Reid Shelton, Albert Finney and George Hearn, among others, all gave voice to a bald Warbucks.
Through Dec. 22, the Academy Theatre adds another to that list: Greenville's Alan Anderson. Last seen on the Academy stage as Mr. Mushnik in October's run of "Little Shop of Horrors," Anderson gives Warbucks his characteristic charm and shaved his own characteristic mustache for the role. His previous Academy credits also include Judge Turpin in "Sweeney Todd" and the Beast in "Beauty and the Beast," for which he was very appropriately not bald.
Likely a legacy of the original appearance of Warbucks in Gray's 20th century comic, the character's baldness has become a musical theater staple. And the Academy's view: If it's not broken, don't fix it.
The Academy Theatre's 2019-20 season continues with the classic "Annie," directed by Sue Wentz and featuring more than 20 cast members. The production runs through Dec. 22, with performances Fridays and Saturdays at 7:30 p.m., Sundays at 2 and two special performances: 2 p.m. Saturdays Dec. 7 and 14.
Housed at Miss Agatha Hannigan's orphanage from infancy, Annie dreams of finding her parents when she finds herself at home in Warbucks' Fifth Avenue mansion.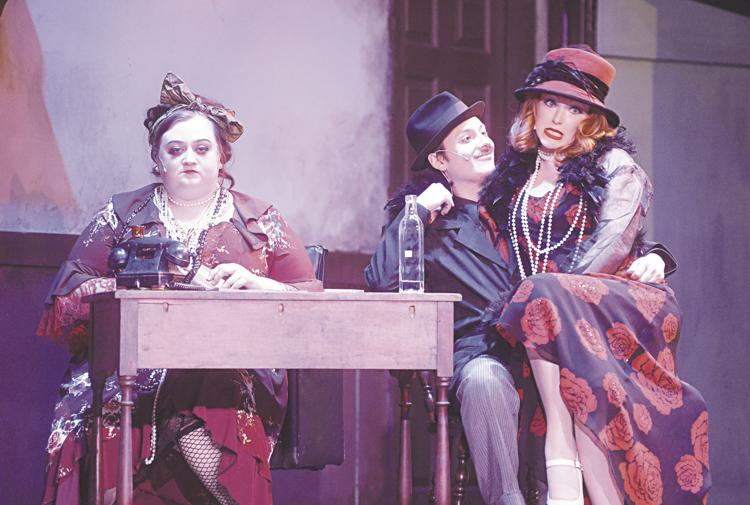 As Miss Hannigan, her brother, Rooster, and Rooster's girlfriend, Lily St. Regis, work to obtain Warbucks' reward offered to anyone who can find Annie's birth parents, "Annie" classics boom from the historic Academy stage.
Joining Anderson is Saegertown's Eden Dorta as Annie. Dorta has appeared in several Academy productions, including in "The Little Mermaid" as Flounder. Annie's loving guide at Warbucks' house, Grace Farrell, is played by Racheal Graybill of Linesville, who makes her musical theater debut in "Annie."
Rounding out the cast are Julia Kemp, Lee Scandinaro and Autumn Vogel, who play a trio of mischievous con artists — Miss Hanigan, Rooster and Lily, respectively.
Winner of the 1977 Tony Awards for Best Musical and Best Original Score, "Annie" runs about two hours and 30 minutes, loaded with timeless hits, including "Tomorrow," "It's the Hard Knock Life" and "Easy Street."
Opening weekend brought packed houses both Saturday and Sunday, for crowd-pleasing, stunning visuals and first-rate vocals. So as the holiday season approaches, join the Academy's cast and crew for nostalgic melodies and the heartwarming tale of Annie — her unwavering courage, her contagious positivity and her search for belonging.
Tickets to the Academy Theatre's production of "Annie" may be purchased by phone (337-8000), on the Academy's website (theacademytheatre.org) or at the Chestnut Street theater's box office from noon to 5 p.m. Tuesdays through Fridays.
Ellis Giacomelli is an Academy Theatre volunteer.