That uniquely American phenomenon known as "Broadway" did not begin to take shape until the middle 1800s, as enterprising entertainment entrepreneurs invited New York City's residents to visit the former farmland of the brand new 42nd Street in what would become the theater district of modern New York to "enjoy the pure clean air," far from downtown Manhattan.
Today, "Broadway" designates more than 40 theaters capable of holding audiences of 500 or more patrons in the heart of the Big Apple. This aspect of the entertainment industry is such big business that estimates suggest that almost 15 million people attended shows last year alone, giving the theater world in New York nearly $2 billion in revenue. Add to that all of the regional houses nationwide that host touring companies from these theaters and the many community theaters mounting productions across the country each season and you can see the powerful appeal of "Broadway."
That is why the Academy Theatre is pleased to present its sixth installment of "A Bit of Broadway." Each with unique playlists presented by a cast of 25 performers, "A Bit of Broadway" last weekend delighted enthusiastic local patrons who didn't have to travel great distances, fight huge traffic headaches or pay the exorbitant prices associated with any visit to New York City.
Those coming to any of this weekend's last three performances will find a healthy representation of the best and brightest shows of the "Great White Way" — a term coined at the turn of the 20th century when theaters installed electric signs advertising their productions but found that color bulbs burned out too quickly.
Some of the Academy's favorite child, teen and adult performers will present songs from shows classic and cutting-edge. "I Cain't Say No" from "Oklahoma," "Give My Regards to Broadway" from "Yankee Doodle Dandy," "Almost Like Being in Love" from "Brigadoon" and "Good Mornin'" from "Singing in the Rain" are examples of well-known songs from well-loved shows.
"Little Shop of Horrors" and "Grow for Me" from "Little Shop of Horrors," "America" from "West Side Story," "My Strongest Suit" from "Aida" and "The Wizard and I" from "Wicked" come from more recent classics. Current Broadway productions are represented as well — "Dear Theodosia" from "Hamilton," "Mamma Who Bore Me" from "Spring Awakening" and "I'd Rather Be Me" from "Mean Girls" are from that category.
The ensemble sings and dances their way through numbers like "I Got Rhythm" (from "Crazy for You"), "Big Girls Don't Cry" (from "Jersey Boys") and "Hello" (from "The Book of Mormon") while soloists will move the audience with such songs as "I'm Alive" (from "Next to Normal"), enthusiastically sung by the energetic Oliver Smith. Academy Artistic Director Julia Kemp, along with "Body Bag Ben" Samples, will amuse with "If You Hadn't But You Did" (from "Two on the Aisle").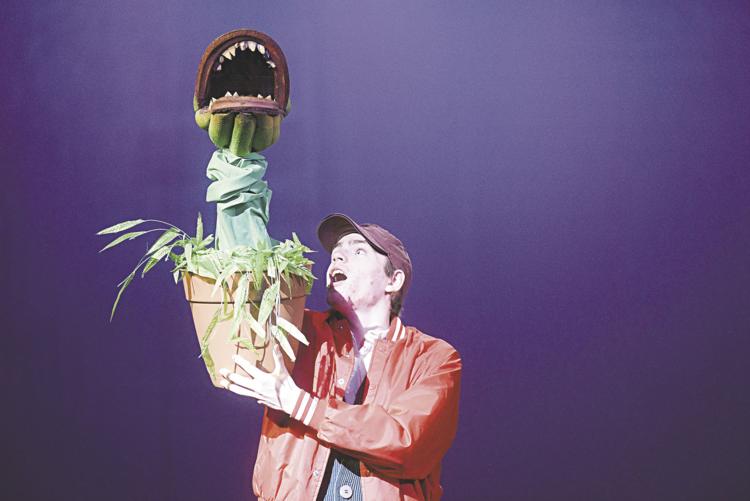 Featured performers Madison Morgan and Eric Ziegler entertain theatergoers by bringing to life a song about another type of theater experience in "Tear Jerk" (from "I Love You, You're Perfect, Now Change"). Returning for his fourth appearance in these "A Bit of Broadway" productions is Terry Farlik who, with his basso profundo voice, will transport listeners back to the "South Pacific" with his romantic rendition of "Some Enchanted Evening." And a capable coterie of cute kids sings and dances their way through crowd favorites such as "I Won't Grow Up" from "Peter Pan," "Hard Knock Life" from "Annie" and even "A Million Dreams" from a soon-to-be-stage-musical "The Greatest Showman." And no non-holiday "A Bit of Broadway" production would be complete without the powerful and profound "One Day More" from "Les Miserables."
First-time masters of ceremonies are the ever-appealing Lee Scandinaro and Autumn Vogel, a couple offstage as well as on — a fact they put to good effect at a number of points throughout the show. Their informative introductions and audience appeal add to the charm of this event, making "A Bit of Broadway" a perfect reason to journey to Meadville's "theater district" on Chestnut Street. Give your regards to "A Bit of Broadway!"
Running for only three more shows, "A Bit of Broadway" plays at 7:30 p.m. Friday and Saturday and 2 p.m. Sunday.
For full information on times and ticket sales, call the Academy box office at 337-8000 to reserve tickets for $22 general admission, with $2 off for online or early reservations. To order online, go to theacademytheatre.org.
A pastor of two local churches, Tim Solomon is one of the music directors and performers at the Academy Theatre.