Nearly six weeks after learning their 6-year-old son, Harrison, had leukemia, Suzanne and Jason Conner have learned a great deal more: about the strength of their community's support and the strength of Harrison's determination in the face of his diagnosis.
"Harrison strong" has become the rallying cry for the Conner family and the neighbors who have mobilized around them.
"That's been his demeanor from the very beginning," Suzanne Conner said recently during the first moments to herself she had managed to find since taking Harrison to the emergency room on Jan. 2. "He only had one scary episode where it made him nervous, and then he was like, 'I got this, mommy. I don't want to die young.'"
The reaction from friends, neighbors and others in Conneaut School District has been equally emphatic.
"It's amazing, the community — I tell you what," Jason Conner said. "I believe in humanity a little bit more."
The response from those around them has ranged from simply spreading the "Harrison Strong" message — symbolized by the orange ribbon of leukemia awareness and an accompanying #HarrisonStrong hashtag — to dozens of meals dropped off for them, to fundraisers, including several online, one at a recent Conneaut Area Senior High wrestling match and others planned for March.
"Someone bought us a van," Suzanne said, calling the gift from Kanect Recycling of Ashtabula, Ohio, and other forms of support "mindblowing."
"The outpour from the community has been astounding," she said. "We just get caught up in daily trudge through the trenches, and then somebody stops by."
What Suzanne described as the "crazy whirlwind" of the past few weeks began uneventfully at first with a somewhat sluggish Harrison experiencing some aches and pains and paleness to his skin and generally not feeling well. Leukemia — a form of cancer that affects the body's ability to produce blood and fight infection — was nowhere on her radar.
"Nothing that struck me as concerning," Suzanne said of the seemingly minor symptoms that Harrison exhibited just before his winter break at Conneaut Valley Elementary School.
She became more concerned when a sharp-eyed school nurse called to express concern about Harrison seeming more tired than usual and the fact that his cheeks weren't flushed when he was exerting himself in gym class. When the symptoms lingered through the break, Suzanne took Harrison to Meadville Medical Center, where test results showed shockingly low levels of hemoglobin and platelets in his blood.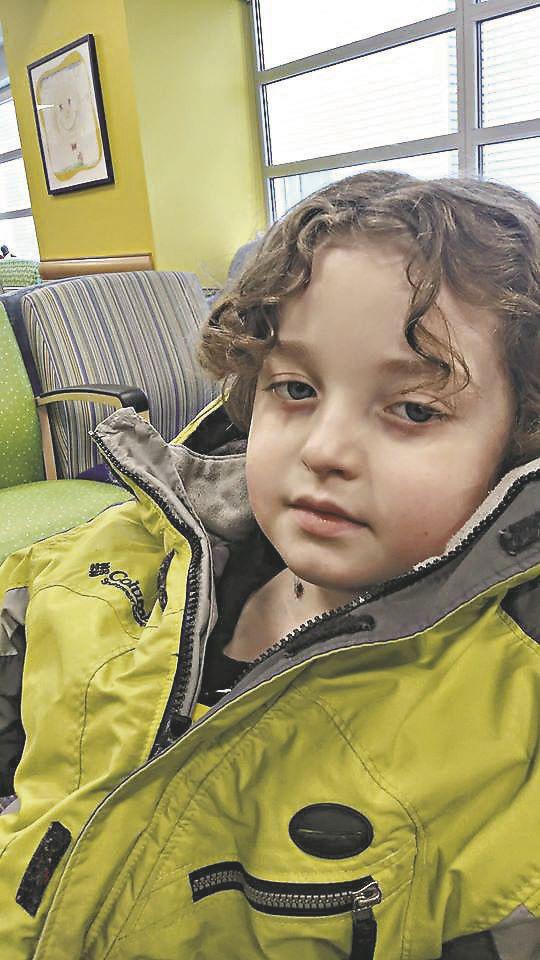 "We were probably only there 30 minutes," she said. "They came in and said he's flying to Pittsburgh."
After a helicopter ride — Harrison fell asleep about five minutes into the flight, but he still likes to brag to his older brother and sister about the trip — he soon began chemotherapy during a weeks-long stay at UPMC Children's Hospital of Pittsburgh. In late January, Harrison returned to Linesville, but the family has continued to make multiple trips to Pittsburgh for treatment each week.
Life with three children ranging from 6 to 14 years old is busy enough for Suzanne, a part-time hairdresser, and Jason, a disabled combat veteran. Adding a cancer diagnosis at the same time Suzanne was pregnant with the couple's fourth child raised the intensity significantly.
"We're usually the ones who are helpers," Suzanne said. "To be on the receiving end is strange, but it's reassuring that there other people out there like us that want to make the world better."
The family has health insurance, Suzanne said, but they are not yet sure how much of Harrison's medical costs will be covered and how extensive additional expenses will be for travel and other necessities not covered by insurance.
Family friend Nikki Hunter, one of numerous people who adopted the #HarrisonStrong image as her profile picture on Facebook, was shocked when she heard the news of Harrison's diagnosis but not at the community's reaction to it.
"I've seen people have just come together so much to support the family and to be there for them with love," Hunter said. "This really is Harrison's village. He's one of our own, and everyone is stepping up."
Having completed the intensive first round of chemotherapy, steroids and antibiotics with flying colors, Harrison moves on this week to the second round, which involves spinal taps to treat cancerous cells that may have been missed as well as additional oral chemotherapy. Soon, Suzanne said, Harrison will start losing the curly hair he's known for.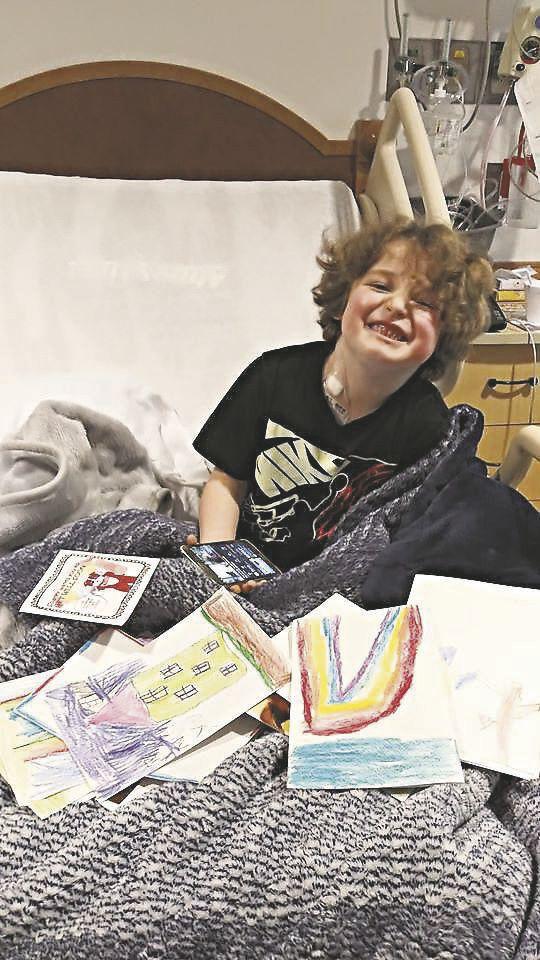 "He loves his hair," Suzanne said. "It's going to be very hard for him."
When Jason's decision to show solidarity developed into a "Buzz Off Cancer" fundraiser, Harrison told his parents he wanted to give half of the money raised to other families going through similar circumstances. At the time, Suzanne said, Harrison was too weak to walk and didn't have the strength to talk in a normal voice.
"It surprised me to see the thoughts going through his little brain when he's laying there with the worst tummy ache he's ever had and barely has the energy to speak," she said.
"He's an awesome kid," Jason said.
So far, the results of the treatment have been positive, according to Suzanne's periodic posts to social media. The updates help her get her thoughts out of her head before they become overwhelming and allow her to avoid dwelling on the negative.
"Harrison will do something funny," Suzanne said, "and I want to share it because I don't want to share all 'boohoo.'"
Typically, after the first few months of intensive treatment, maintenance treatment continues for up to three years. Suzanne said Harrison came up with an insightful way of understanding what he was going through during the first few weeks of chemotherapy.
"He was playing 'Call of Duty' on the Xbox at the hospital," she recalled, "and he said, 'This game is like my leukemia. I'm walking through, finding all these bad guys to shoot. That's like the medicine — the medicine is traveling through my veins, finding the bad guys, and shooting them."
Mike Crowley can be reached at 724-6370 or by email at mcrowley@meadvilletribune.com.