WEST SHENANGO TOWNSHIP — Millions visit Pymatuning State Park each year, but the popular lakeside attraction is hardly immune to the effects of disuse, disrepair and disinvestment.
With millions of unfunded infrastructure needs at Pymatuning alone and work needed throughout state parks and forests, the president of the Pennsylvania Parks & Forest Foundation and state park staffers this week pitched the need for more funding.
Pymatuning State Park, which receives more than three million visitors annually, has nearly $23.3 million in infrastructure needs, according to Marci Mowrey, president of the Pennsylvania Parks & Forests Foundation.
Mowrey and representatives from the Pennsylvania Department of Conservation and Natural Resources (DCNR) gave a presentation and a tour explaining the challenges faced by the commonwealth's parks and forest lands, using Pymatuning as an example of the need for more public funding.
According to the nonprofit Parks & Forest Foundation, the Bureau of State Parks and the Bureau of Forestry each need $500 million to counter what the organization found to be inadequate funding, understaffing and natural and visitor pressures.
During her presentation, Mowrey pointed to a 2012 Penn State study that found the economic impact of Pymatuning visitors to the local area in a recent year was more than $50 million. Pymatuning State Park also supports more than 1,100 jobs in the surrounding area, according to Mowrey.
"Pennsylvania ranks fifth in the nation in terms of consumer recreation spending, a $29 billion industry that supports 219,000 jobs across the commonwealth," Mowrey said. "You could say it's one of the biggest economic engines in the state, and in fact, when we looked at employment by sector by the Department of Community and Economic Development, it ranks up there with agriculture, which we say is one of our largest employers. It employs more people than the natural gas industry."
Mowrey mentioned the difficulties facing state parks and forests, including increased flooding, invasive species, plant diseases, sewage and water issues and about the same number of staff members since 1970 when there were fewer parks and attendance was half of the 40 million annual visitors now. Mowrey also held up a dollar bill and a penny to illustrate that if the dollar represented the commonwealth's budget, one half of the penny goes to DCNR.
"When we're asking for more money and say we need to invest in our state parks and state forests, we're not asking for a lot," Mowrey said. "For every dollar invested in the state parks and state forests, $12.41 goes back to the commonwealth. That's a pretty good return on investment."
Pymatuning Lake Association President Dewey Forsythe also came to the presentation, adding the list of yearly projects the group financed such as pavilions, small parking areas for anglers and many benches. Mowrey said "friends" groups like the Pymatuning Lake Association donated 76,000 volunteer hours to state parks and forests and raised $350,000 in 2018.
"It can't all be down at the private level," Mowrey said. "It really does require some government investment, and there are solutions. I think it warrants a long-term conversation because we have a billion dollars worth of needs."
Addressing Pymatuning's needs
Pymatuning State Park Director Dan Bickel admitted that, despite recent years of investment, there were still several needs yet to be addressed at Pymatuning, specifically mentioning washhouse facility replacements, the Espyville marina and road conditions. He also noted Tuttle Campground, which is currently closed, as a concern but said there was a plan in place to reopen it.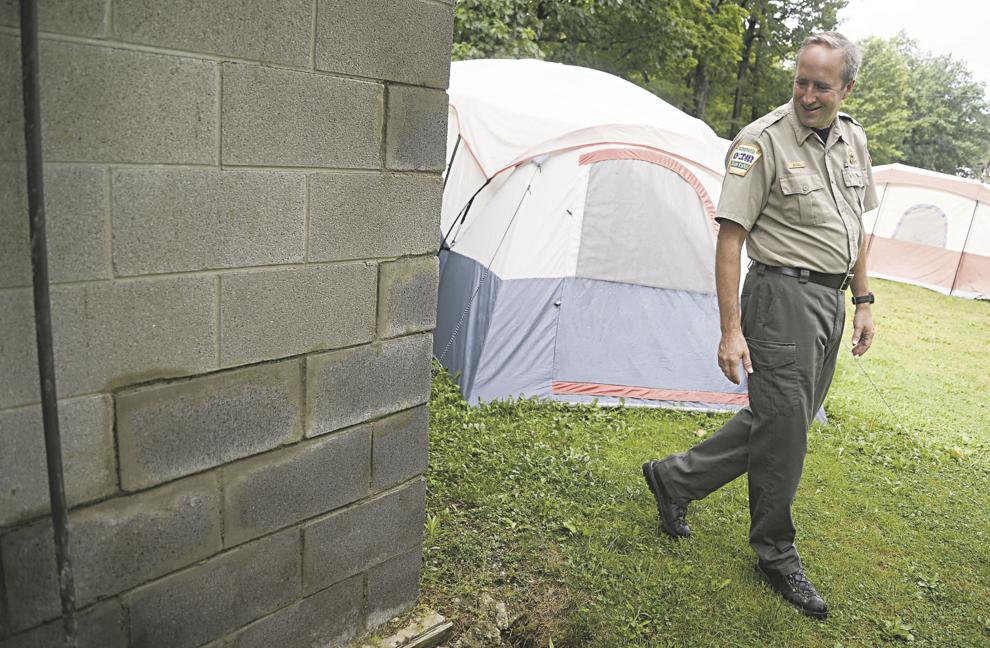 In regards to the washhouse facilities, Bickel showed the tour group a few buildings constructed 50 years ago. The facilities showed their age with cracked floors, failing roofs and some graffiti, though they were clean and safe to enter. Bickel also said he focuses on facilities that are used at campgrounds next to rental campsites more frequently than those primarily for day use, such as at beaches.
"We'll eventually get to a point where we can't put Band-Aids on anymore," Bickel said. "We've experienced that at our Jamestown Campground washhouses where our foundations have failed. We had to jack up the foundations and put new block in. How many times can we do that before the entire structure's going to fail?"
The Parks & Forest Foundation is trying to calculate the cost of all the deferred maintenance, Mowrey said. She mentioned that there are predominantly two eras of building in the state parks system: the Civilian Conservation Corps period of the 1930s and the era of Maurice K. Goddard who, as a state cabinet member, added dozens of state parks to the current system in the mid-20th century.
Jeremy Rekich, state parks regional manager, said the two priorities that receive the most attention are public safety and health and any project that would close down a portion of a park if left unattended. Frequently, that means structural and environmental concerns that are repaired mostly behind the scenes.
"Unfortunately, what happens is that's about where the list stops," Rekich said. "That's about how much money we have to fix those things to keep parks open and to keep them safe and clean. We don't always get down the priorities to do a brand new restroom or to do a public service area in the park."
Rekich said DCNR tries to program about $300,000 for a new pre-fab concrete structure to replace aging facilities and said Pymatuning would do well with that particular style of buildings. However, he confirmed there was no money to install new facilities.
Mowrey also mentioned that revenue from campsite and pavilion rental used to be put into maintenance funds, but as operating budgets have dwindled, those funds have gone to support operations instead. Because of the unpredictable nature of state park and forest funding, she and Rekich discussed how difficult it can be to follow long-term plans for upgrades and repairs.
The Espyville marina, Pymatuning's most popular marina according to Bickel, has a weathered dock that, in some cases, had twisted and warped. Although Linesville and Jamestown marinas were repaired in 2017 and 2003, respectively, Espyville's wooden docks hadn't seen improvements since 1995. Such deferred replacements force staff members to find a window of time in the preseason spring to make repairs to a feature that brings in revenue from dock space rentals.
"We're looking at a new docking system here and headwall," Bickel said. "These wood-sided docks twist. The ones at Jamestown and Linesville are aluminum framed, so they're a sturdier dock. These components just don't stand up to the conditions that we have. When we put a new marina system in, we want it to be very durable and last."
The tour, which included representatives from state Sen. Michele Brooks and state Rep. Parke Wentling's offices, traveled by car down a dirt and gravel road that was recently repaired. The road led to a lakeside spot for fishing or simply relaxing by the water.
"A lot of people don't realize we have 121 state parks and 2.2 million acres of state forest land," Mowrey said. "We're unique in Pennsylvania — there's no admission fee. If you can get out, you can access it. Economics shouldn't play a factor in being able to enjoy it."
Tyler Dague can be reached at 724-6370 or by email at tdague@meadvilletribune.com.