VERNON TOWNSHIP — The blaze that destroyed the office and service building of an area used car business late Thursday afternoon is considered to be accidental, according to Vernon Central Volunteer Fire Department.
The blaze at Team Lake Road Auto Sales, 13988 Conneaut Lake Road, broke out around 5:15 p.m., touched off by a service technician welding a vehicle inside a service bay, Stacey Reynolds, the business's co-owner and manager, said Friday. The business is located about 6 miles west of Meadville and 3 miles east of Conneaut Lake.
"It's all kind of surreal what happened," Reynolds said as she stood in the lot Friday organizing efforts to get the business back open as soon as possible.
Team Lake Road Auto Sales has been in the midst of a remodel and expansion of its building, Reynolds said.
Employees used three fire extinguishers in an attempt to put out the fire but were unsuccessful, according to Reynolds. There were seven employees inside the business at the time and all evacuated safely, she said.
"It's accidental and apparently one of the workers was welding a truck in the back, but I haven't spoken to him yet," Chief John Fuller of Vernon Central Volunteer Fire Department said Friday about the cause of the fire.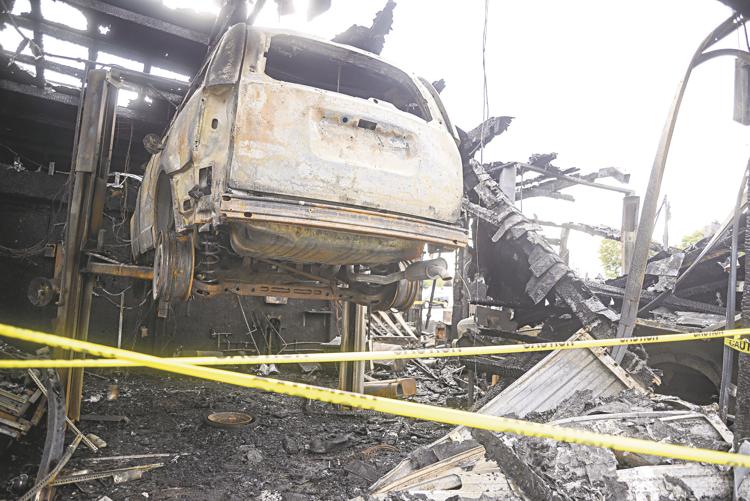 The building and three vehicles inside were destroyed, but firemen were able to save records, vehicle title information and keys to the vehicles, Fuller said.
"We had our work cut out for us because the building had a lot of additions and roofs that overlapped," he said, which caused the fire to spread through spaces inside the walls and under the roofs.
Nine area volunteer fire departments called to the scene — Vernon Central, Vernon Township, Conneaut Lake, Conneaut Lake Park, Greenwood, Cochranton, Fallowfield, Linesville and Summit Township. Both Meadville and Conneaut Lake ambulance services were called to the scene, but no injuries were reported, Fuller said.
The intensity of the blaze required a frequent rotation of firemen, Fuller said.
"We've got to thank Hank's (the frozen custard stand adjacent to the car lot)," Fuller said. "The staff took care of the exhausted firemen, providing milkshakes and other items for them."
The last fire units returned to service at 11:08 p.m. Thursday.
Team Lake Road Auto Sales already is looking to relocate to another location along Conneaut Lake Road in Vernon Township by next week, Reynolds said.
"We plan to get up and running as quick as we can," Reynolds said. "Our employees are like family. We plan to stay strong."
Keith Gushard can be reached at 724-6370 or by email at kgushard@meadvilletribune.com.