There are no known cases in Pennsylvania of COVID-19, the coronavirus strain which has attracted so much attention following its initial outbreak in China. Even still, many local organizations are preparing for the possibility of the disease reaching northwestern Pennsylvania.
For Dr. Denise Johnson, chief medical officer of the Meadville Medical Center, it's a question of when COVID-19 comes to Meadville — not if.
"We're working under the assumption that it eventually will be here, just because we're a more global society now," Johnson said. "Although Meadville is a small town, we have people who travel all over the world. We have local residents who travel all over the world, we have international businesses (and) international students, and so yes, I think there is a risk" of it coming here.
Even as the arrival of the virus seems inevitable, Johnson has one important message for the people of Meadville: There is no reason to panic. While the fatal cases of COVID-19 have garnered much publicity, Johnson said most people who have caught the virus display only mild or no symptoms.
Coronaviruses are nothing new. Becky Dawson, a faculty member in the global health studies and biology departments at Allegheny College, said about a third of all cases of the common cold are caused by coronaviruses. The disease gets its name due to the virus being covered in circles which resemble crowns and affect the respiratory system.
What makes COVID-19 notable, according to Dawson, is that it replicates in the lower respiratory system. Since 2003, only two other strains of the virus, namely severe acute respiratory syndrome (SARS) and Middle East respiratory syndrome (MERS), have been known to replicate in such a manner. Both are referred to as novel coronaviruses.
While typical coronaviruses can cause sneezing and coughing, novel ones have the possibility of developing into pneumonia-like symptoms, a much more serious diagnosis. Even still, Dawson said estimates for COVID-19 has its fatality rate standing at around 2 percent, mainly occurring in elderly people or those with preexisting health conditions.
The difficulty in COVID-19 is not that it kills a lot of people but that not everyone gains severe conditions. Compared to SARS, Dawson said this makes COVID-19 much harder to contain because it's not easy to tell who has the virus.
"It's complicated," she said. "There's no formula as to who is going to get sick and who is going to not."
Containing the virus
Fortunately, the techniques used to keep the virus from spreading are relatively the same as those for any other disease. Johnson said common practices such as sneezing into sleeves, regularly washing hands and avoiding touching the face are all things people can do to keep others from getting sick should the virus come to Meadville.
Above all, Johnson stressed the importance of staying home if someone feels sick.
"If you are sick, do not go to work," she said. "That's something that's really hard for a lot of people to follow, but also if you're sick and you're coughing and you have a fever, you really shouldn't be going to the grocery store, out in large groups or things like that. You really should be home getting rest, getting better and monitoring your symptoms."
In preparing for the possibility of treating someone with the coronavirus, Johnson said Meadville Medical Center has been running drills and practicing the procedures and actions the medical staff will perform should someone come in with the virus. This lets the various services that may interact with such a patient know what they need to do and maintain a "constant state of readiness," according to Johnson.
"We try to prepare for everything," she said.
In case someone with the virus comes in, the hospital has negative pressure rooms which can keep the disease from spreading to other patients. Visits to such rooms are limited, and any personnel entering must wear protective equipment. The rooms undergo special cleaning procedures, including the use of ultraviolet light to sterilize the surfaces.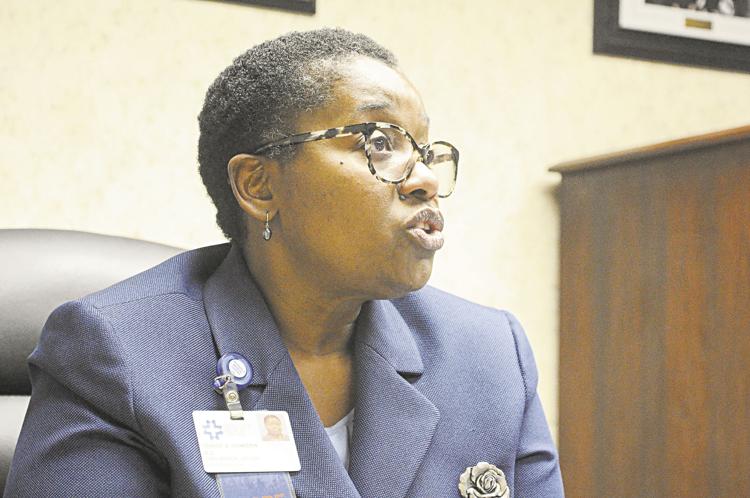 Keeping up with the latest news related to COVID-19 is also an important part of the hospital's preparations. Johnson said Meadville Medical Center maintains a command center that monitors updates from the region, keeping a watchful eye should the virus arise in a nearby health center.
Meadville Medical Center is not the only area institution taking precautions. Conneaut School District Superintendent Jarrin Sperry said he and the superintendents from Crawford Central and PENNCREST school districts, as well as the Crawford County Career & Technical Center, recently met to discuss school responses to the virus.
"Right now, we're running it just like we do in the wintertime," Sperry said. "We try to keep surfaces as germ-free as possible."
Sperry said the districts are taking similar responses as they do to the flu, ensuring that desks, door knobs and other things students interact with are wiped down and kept clean. Further, the districts are stressing that students or staff who don't feel well stay home.
PENNCREST School District published a page of links to coronavirus resources on the district's website, while Conneaut School District sent out and published a letter from the superintendent with information about the virus on the district's website.
For Meadville Area Ambulance Service, COVID-19 is being treated much the same as any other infectious disease. President and owner Eric Henry said the service has a guideline of universal precautions staff members undertake when interacting with patients, including keeping their mouths covered and washing hands, to prevent infection.
"The coronavirus would be no different than influenza," Henry said.
Should a patient transported by the ambulance service test positive for the coronavirus, it will be notified by the hospital. This alerts the ambulance service to keep an eye out should symptoms of the disease manifest in the potentially exposed employees.
In response to concerns over the virus, the Roman Catholic Diocese of Erie has suspended the exchanging of the sign of the peace during Masses starting this upcoming weekend. The diocese said on its website that it is monitoring the situation involving the disease and will take steps to ensure all charges remain as healthy environments.
Edinboro University of Pennsylvania announced Tuesday that it has canceled all university-affiliated travel programs through the end of May out of caution regarding the virus. The school also encouraged students and faculty to avoid nonessential travel during the upcoming spring break.
The university's decisions were based on recommendations from the Centers for Disease Control (CDC) for institutions of higher education across the country.
When will relief come?
As a virus, care and treatment for COVID-19 mainly focuses on combating the symptoms while the body's immune system handles the disease. Viruses are typically dealt with ahead of time with vaccines, but Dawson estimated that it'll probably be at least 18 months before a vaccine for the coronavirus strain is developed and available.
"Right now, we as the human race are running behind the virus," she said.
It may be a simple case of waiting to see if the virus burns itself out. SARS, which had an outbreak in 2002, largely went away after winter, according to Dawson. It is possible that COVID-19 might be seasonal as well, disappearing during the warmer months.
In the meantime, the Pennsylvania Department of Health is equipped to test samples sent to it for signs of the virus. In a press briefing Tuesday, Pennsylvania Secretary of Health Dr. Rachel Levine said the state is now authorized to perform testing, whereas it was previously performed by the CDC. She also said it is expected commercial labs will receive approval from the Federal Drug Administration to perform testing in the future.
Testing takes a relatively brief amount of time. Levine said samples sent in the morning can be tested by the afternoon or evening. Samples received during later hours will see results by the following day.
Currently, the criteria for being tested is if someone has traveled to an affected area, such as China or Italy, or has had exposure to someone who has the disease. Levine said she expects the criteria will liberalize "considerably" once private labs are able to test.
If someone is concerned they have COVID-19, Levine said they should consult their primary health care provider, who will in turn contact the Department of Health and determine whether a sample should be tested. Samples are collected through throat and nasal swabs.
Sean P. Ray can be reached at 724-6370 or by email at sray@meadvilletribune.com.