Crawford Central School District, meeting virtually through teleconferencing software, unanimously approved the calendar for the 2020-21 school year earlier this week.
The calendar anticipates a start and an end to the year that occur slightly later than usual due to a quirk of timing that has the Crawford County Fair falling later than usual.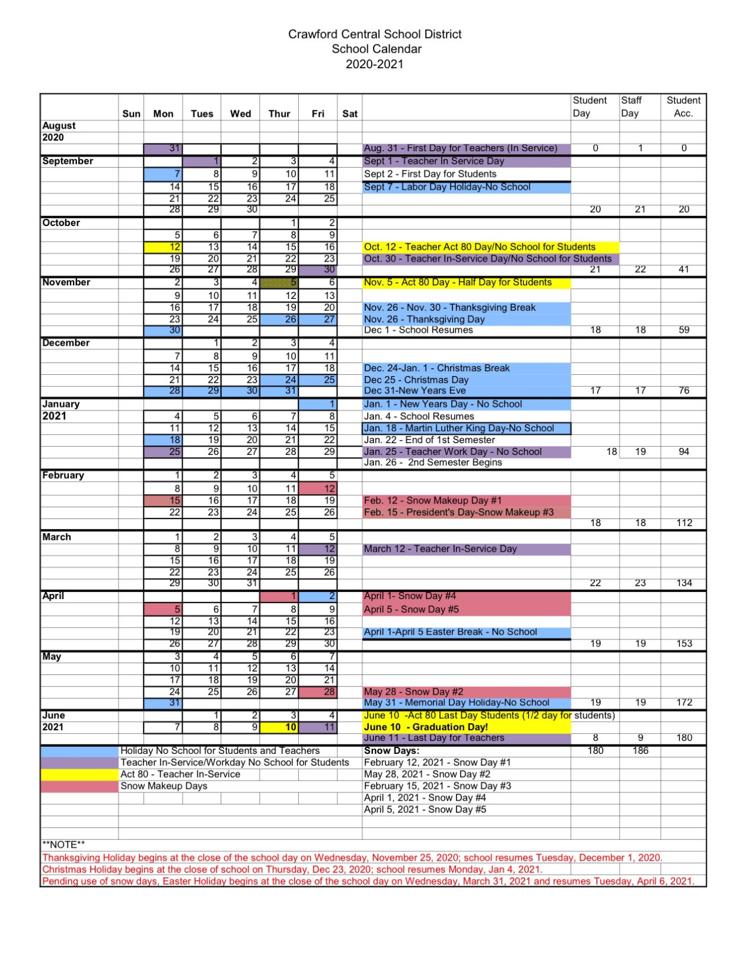 The approved calendar has teachers beginning the school year with two in-service training days on Aug. 31 and Sept. 1. Students will attend their first day of school on Sept. 2. As in past years, the initial three-day week for students will be followed by a four-day week due to the Labor Day holiday. Students will fully get into the swing of things with a five-day week during the third week of school.
The next breaks from the routine will come when students get two three-day weekends in October with an Act 80 full-day dismissal on Oct. 12 and a teacher in-service day on Oct. 30. According to the state Department of Education, Act 80 days allow districts an exception to the 180-day school year requirement for "specified activities that will improve the educational program" as long as the district still meets the required minimum hours of instruction.
The Thanksgiving holiday begins at the close of the school day on Nov. 25 and continues through the following Monday, with school resuming on Dec. 1.
Christmas break begins on Dec. 24 with students and teachers back on Jan. 4, 2021. Students will be off again Jan. 18 for the Martin Luther King Jr. holiday and Jan. 25 for a teacher workday.
Students and teachers will enjoy a four-day weekend for Washington's birthday from Feb. 12 through 15 — unless there have been any school cancellations to that point. Feb. 12 will be the first make-up day option and Feb. 15 will be the third.
Students will be off again on March 12 for another day of in-service training for teachers and parent conferences. The Easter holiday break begins at the end of the school day on March 31 with school resuming on April 6.
Another four-day weekend is planned to coincide with Memorial Day weekend from May 28 to 31. May 28 is the second make-up day option.
The final day of school, on June 10, will be a half-day. In the unlikely case that more than three make-up days are necessary, the fourth and fifth options would be taken from the Easter holiday — April 1 and 5.
Graduation at Meadville Area Senior High and Cochranton Junior-Senior High is June 10, the second Thursday of the month, under the proposed schedule. Crawford Central graduations typically take place on the first Friday in June. The last day for teachers is June 11.
Mike Crowley can be reached at 724-6370 or by email at mcrowley@meadvilletribune.com.