WEST MEAD TOWNSHIP — Chart-topping country singer Kane Brown got the crowds excited Wednesday night despite muddy, wet conditions that temporarily hampered the fun at the Crawford County Fair.
Seriously soggy parking lots didn't seem to keep away thousands from attending the concert with Brown and opening act Seaforth, an Australian duo with country vibes.
Brown has rocketed to popularity after forming a solid following on social media. In 2017, Billboard magazine announced he went to number one on all five of Billboard's main country charts, the first artist to do so.
The concert had a standing-only pit in front of the stage for the first time for those who wanted to see the performers up close, according to host Allison Palmiero Brady of Palmiero Toyota. People kept filing in and securing tickets as Seaforth's Tom Jordan and Mitch Thompson made their way to the stage.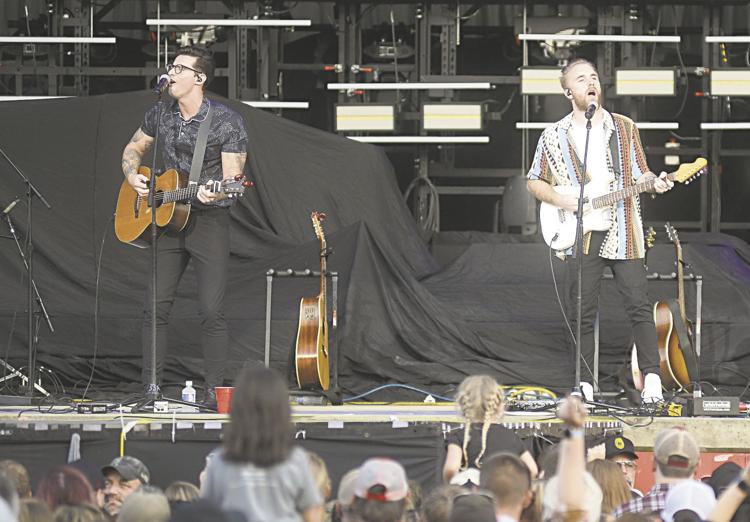 "We thought it was going to be a bath," Jordan said, referencing the rainy weather that had cleared in time.
Seaforth's smooth sounds entertained the crowd, but the headliner of the night was Brown. Several people in the crowd wore his Kane Brown-themed T-shirts and were looking forward to the show.
Angela Strait of Tionesta, a fan in the first row of the grandstand, said this was only the second concert she'd ever been to and her second time at the Crawford County Fair.
"I'm super excited to see Kane Brown," Strait said. "I've never seen him live before. He such a mixture of pop music and country that I'm really interested to see what kind of show he puts on."
Joshua Keith of Franklin saw Brown in Clearfield last year and found the fair's setup to be "a lot better." His wife Alicia also said she liked the mix of country and pop that Brown's music blends.
"He was amazing, the experience of being with our friends and family (listening to) good music," Keith said. 
Keith also mentioned this was his children's first concert experience and that they loved Brown.
Thersea Swift and Shannon Harmon from Pierpont, Ohio, were in the ground seating closer to the stage, and they had matching T-shirts with Brown on the front.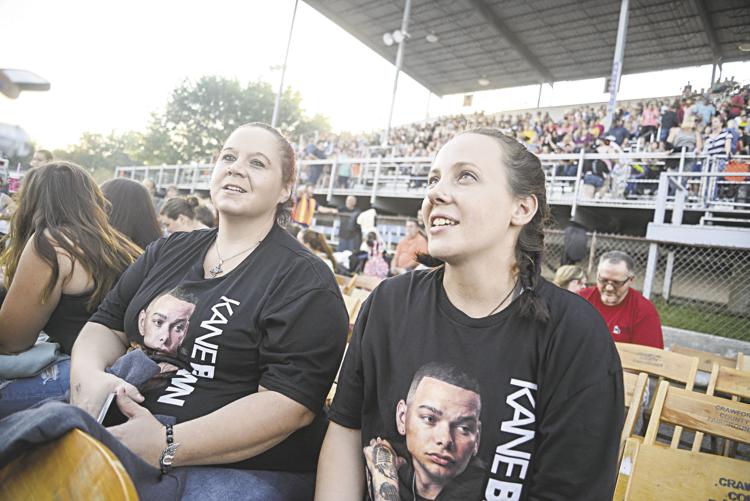 "I like his voice and that he's down to earth," Harmon said. "It's almost like he's singing right to you in every song. Just soulful."
Brown took the stage at about 8:30 to cheers from the crowd, singing his song "Found You" to open up the night.
Strait said she believed the earlier rain had scared some people away, but about 6,800 tickets had been sold as of Tuesday afternoon. Eventually, the grandstand was nearly full as were the track seating and the pit.
"We ended up having beautiful weather," Strait said. "The turnout looks great."
Tyler Dague can be reached at 724-6370 or by email at tdague@meadvilletribune.com.