Connor Beck got more than he bargained for when he decided to do something to get out of the house for a few days over the summer.
"What you're going to need to do here — you're going to take this wire," said Bill Chernicky, electrical occupations instructor at the Crawford County Career & Technical Center, "take that past the near screw about half an inch, cut it, strip it back, make a curlicue, mate it on the screw."
Beck, wearing safety goggles and gripping electrician's pliers in his right hand, extended the wire in question to get a sense of how much extra he had to play with. Chernicky had run quickly through the instructions for the next step in wiring a doorbell, but with nearly three full days under his belt in the Career & Technical Center's electrical occupations shop, the rising Meadville Area Senior High ninth grader was keeping up.
Beck was one of more than 50 rising eighth and ninth graders who attended the annual Career Camp organized by the Crawford County K-12 Career Education Alliance. With options ranging from a survey of pre-engineering fields, to a deep dive into a field like welding or the electrical wiring course Beck chose, or even a sampler platter that allowed students to explore a different career each day, students were immersed in the center's offerings, according to Laura Peterson, guidance counselor and chair of student services.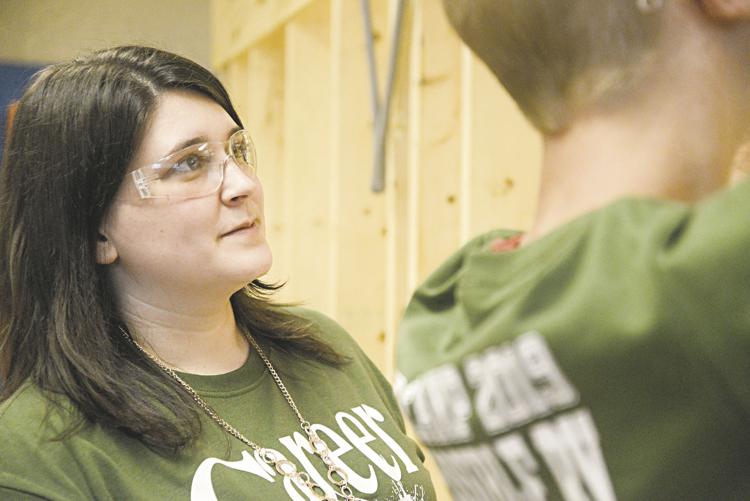 "They can see what shops we have, get focused instruction time with the teachers, more hands-on experience and one-on-one attention to actually say, 'Is this what I'm interested in?'" Peterson said. "It gets the word out there about all the great things we're doing."
The camp also gave Peterson, who started at the Career & Technical Center on July 1 after previously working at Cambridge Springs Junior-Senior High, the opportunity to dive right in to her new position. But while Career Camp may be a new experience for her, moving to the Career & Technical Center felt like a return home for Peterson, a 2008 graduate of Maplewood Junior-Senior High who completed the early childhood education program at the center.
"It means a lot to me that we're doing stuff like this," Peterson said of the camp. "(The Career & Technical Center) really helped me find my career path."
While Peterson used her Career & Technical Center experience as preparation for studying education at Edinboro University of Pennsylvania, Chernicky, also a product of the center, used his Career & Technical Center certificate as the launching pad for a career as an electrician before returning to the school when Rod Frazier, his former instructor, retired two years ago.
Describing the camp as a "change of pace," Chernicky made it clear the students were putting their time to good use, learning many of the basic skills that would make life easier for the average homeowner and that form the foundation for people who go further in the field.
In addition to a general introduction to tools and safety, the students wired electrical receptacles, both for regular outlets and ground-fault circuit interrupters, a single-switch light and a light controlled by a three-way switch. The camp culminated Thursday afternoon as the students wired the doorbell, which featured a doorbell transformer, a chime and two push buttons. The various components were all laid out on a square of plywood equipped with a plug that could be used to power them.
"These kids have learned more in three days than I know about wiring in my home," Peterson said as she watched Beck at work.
Gazing into the innards of the doorbell assembly on the wall studs in front of him, Beck was not yet ready to commit to a career in electrical occupations, but he was glad he had decided to attend the camp.
"I figured it was something that could be fun and that could help me in the future, probably, to get a job," Beck said.
In just three days, Beck added, he had learned a lot.
"I didn't know how to wire anything before."
Mike Crowley can be reached at 724-6370 or by email at mcrowley@meadvilletribune.com.