Forget about looking for items in a video game.
How about getting outside for a live-action hunt for treasure instead?
While movies like "Raiders of the Lost Ark," "National Treasure" and "Pirates of the Caribbean" chronicle the thrill of the hunt, geocaching offers an exciting activity with a side of fresh air and family time. This high-tech game mixes technology with the beauty of the outdoors with rewards from nature.
"You get to see places you've never seen before," said Juanita Hampton, executive director of the Crawford County Convention and Visitors Bureau, in describing the outdoor activity. "It really brings families together."
And while fall is upon us and the leaves are about to turn into brilliant colors, making this an opportune time to get outside, the hunt isn't limited to a specific time of the year.
"You get to get out and play all season," Hampton said.
Geotrails
With the popularity and year-round nature of hunting for geocaches, visitors bureaus around the state have capitalized on the hide-and-seek adventure with geotrails.
Crawford and Venango counties are part of a 10-county area that comprises the Allegheny GeoTrail.
In each county, individuals must get a minimum of six stamps in their passport in order to receive an Allegheny Geocoin. A stamp is located in a geocache, which individuals must find. The geocaches are registered with geocaching.com, and the coordinates are located there. Each county in the trail has a unique coin. And if you miss out on one, don't worry.
"If you want a particular coin, you can trade with others," Hampton said.
And there are plenty of trails in the state from which to choose.
Cambria County, for example, has more than 100 miles of trails.
"That is likely a conservative number," said Nicole Waligora, sports travel program coordinator with the Greater Johnstown/Cambria County Convention & Visitors Bureau. "There are many trails in the more remote areas of Cambria County that are hidden gems."
Two specific trails to check out are Ghost Town Trail and the Path of the Flood Trail.
"Both trails are very unique in that they have so much historical significance," she said. "When you hike on these trails you really get to experience so many things — incredible views, unique landmarks, challenging terrain and so much more."
And while the Allegheny GeoTrail only requires someone to find six caches for a coin, 20 finds are needed to redeem a passport for a custom 3-D coin in Cambria County.
For a trail with a view that's not far from Crawford County, a short drive to Mercer County will lead you to the Trout Island Trail. While it's 2.4 miles, it's planned to be a 13-mile trail along the former Erie and Pittsburgh Railroad. It follows the Shenango River near the Pennsylvania-Ohio border.
"The trail offers a pleasant mix of views, including woodlands, farmlands, and the Shenango Dam," according to a description of the trail on traillink.com.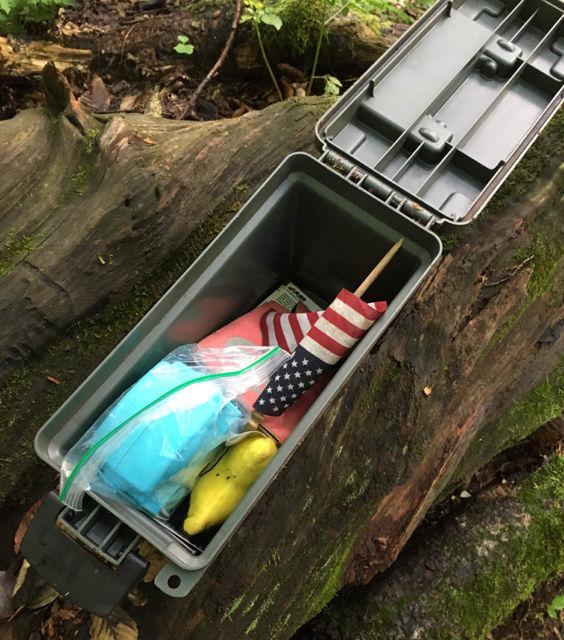 Trails not necessary
You don't need to follow a trail to have an adventure. There are plenty of geocaches out there waiting to be found that aren't linked to an organization or group.
Once you're registered on geocaching.com, the sky's the limit.
Individuals hide caches everywhere, from rural areas to urban areas.
Caches come in all shapes and sizes, Hampton said, and they're not where you might think.
"Sometimes, you have to look up," she said, describing a geocache that she once found that was hanging from a rope in a tree.
Microcaches can have magnets on them and be placed under a guardrail or behind a pole.
Other rewards
Sometimes, simply writing down the date and your name in a log in the cache is the only reward.
However, many geocaches — especially the larger ones that come in the size of a shoebox or an ammo box — have rewards. As a general rule, if you take a trinket from the box, you leave one of equal or more value in the container.
Although the treasure hunting for some geocaches might be a coin or a trinket, simply getting outside is reward enough.
Hampton said geocaching gets people to use their intellect and it's a perfect way to explore the visual treasures of Crawford County and northwestern Pennsylvania.
"You get to see parts of the county that you don't normally get to see," she said.
Waligora agreed.
"Personally, I have found that geocaching leads me to places that I never knew existed," she said. "It is a great way to discover cool destinations in your own backyard."
Rick Green can be reached at 724-6370 or by email at rgreen@meadvilletribune.com.