A rental home on the 700 block of Baldwin Street in Meadville was rendered uninhabitable after a fire that resulted in no injuries broke out today.
The fire at 717 Baldwin St. was reported at 5:31 p.m. Flames could be seen coming out of the rear window of the home, while smoke billowed from the roof. The fire, according to Meadville Central Fire Department Chief Evan Hasko, had spread through the second and third floors of the building and burned through portions of the roof.
No one was home at the time the fire started. Hasko said the residence was occupied by four adults and four children.
Firefighters from Meadville, Vernon Central, Saegertown, West Mead 1 and West Mead 2 departments responded to the blaze. Emergency responders also included Meadville Police Department, Meadville Auxiliary Police, Meadville Area Ambulance Service and Penelec workers.
The fire was brought under control at 6:53, and emergency responders began clearing the scene thereafter.
The cause of the fire is to be determined through an investigation. Hasko said he would contact the Pennsylvania State Police fire marshal Wednesday.
"I have an idea (of the cause), but I don't want to say anything yet," Hasko said at the scene.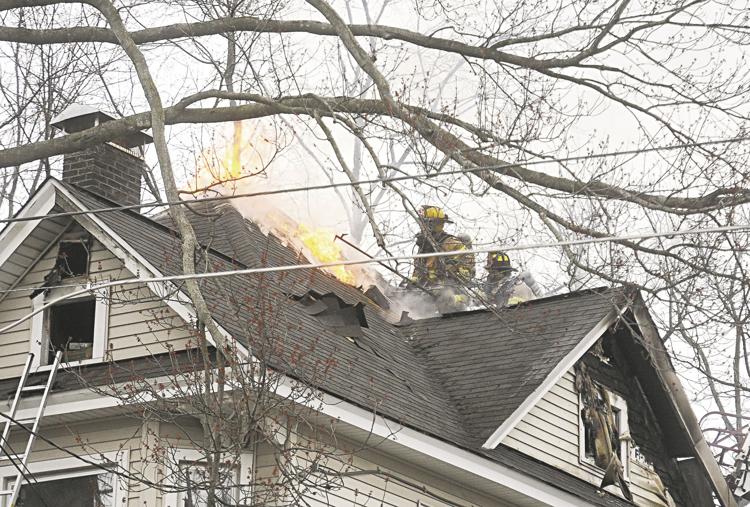 The home was insured for the damages, according to Hasko, and the renters had rental insurance. At the present moment, Hasko said the fire is not being considered suspicious. Hasko said the home was being rented out by an individual and not a rental company.
The fire chief praised the firefighters for their efforts in battling the blaze. Hasko said much of the plywood in the home was screwed down, requiring the use of chainsaws to cut through as firefighters managed the flames.
"Guys did a tremendous job in knocking (the fire) down," he said.
Sean P. Ray can be reached at 724-6370 or by email at sray@meadvilletribune.com.