CAMBRIDGE TOWNSHIP — Sipping their Hellbender porter or Rustbelt amber ale, 30 people who recently gathered after work at Sprague Farm & Brew Works considered what would go best with a finely crafted microbrew.
Sparkling conversation? Peanuts and pretzels? Burger and fries?
Maybe a little ax throwing?
Yeah, how about some ax throwing?
Ax throwing all around, barkeep!
On second thought, maybe not all around. The throwing of axes at Sprague Farm, it turns out — and probably for the best — will be limited to specific times and a very specific place: the newly constructed regulation ax-throwing lanes located just out back from the brewery's converted dairy barn aptly called "Bierhalla."
Brewery owner Brian Sprague wasn't sure how many people would show up when he issued a call for prospective ax tossers on Facebook.
Apparently, if you build a roofed enclosure for throwing small axes at targets resembling the bull's-eyes used in archery, but made of wood planks, they will come.
"I'm very pleased — I really didn't know if anybody would be here," Sprague said after taking the crowd for a tour of the lanes. "I've always done something a little different and I saw it was kicking off on TV, so I said, well, it fits with what we do anyway. Why not get in on the ground floor and see what happens?"
The question of what happens when people at an establishment that makes and serves alcoholic beverages start throwing axes is an important one. Safety was at the top of the list of topics Sprague addressed.
"This is all going to be controlled right," he told the group of ax men and ax women.
As the operator of a bar, Sprague is already well-versed in liability concerns, he said, and had approached his insurance provider with news of the new activity. Participants will all be required to sign waiver forms.
Sprague has also registered with the World Axe Throwing League and he distributed copies of the league's surprisingly detailed official rules, which cover everything from layout for throwing lanes and specifications for axes to target design and scoring. In addition, Sprague explained, requirements for personal protective equipment would be enforced.
In other words, no flip flops for hatchet hurlers.
Open-toed shoes might have been in short supply, but the first official organizational meeting had everything else the prospective ax throwers could have asked for, whether they were experienced choppers of wood or newbies unable to distinguish between an ax, hatchet and tomahawk.
Well, the meeting had nearly everything.
Returning from the tour of the ax-throwing lanes located out back from the main bar area in Sprague's converted dairy barn, 8-year-old Caden Rimel, the youngest member of the ax enthusiasts, looked up at his father, Jerrad Rimel, his excitement tempered by a look of growing concern.
"Are we going to throw any tonight?" asked Caden, who received a pint-sized ax from his grandfather for Christmas and has since gotten some practice chopping wood.
The first meeting, it turns out, was devoted to primarily bureaucratic concerns rather than actual throwing: Should the group form a club? A league? Both? What sort of liability waiver would be required? Does the group need a board? Officers? Who would be in charge of emailing the group? Dues would be required, but how much would members have to pay?
As the group members interested in hashing out such finer details adjourned to the front porch, Caden was not alone in deciding that a walk around the farm was more enticing than more time in a meeting, even if it was about the rules for an ax-throwing league.
The possibility of escaping from meetings, bureaucracy and other symptoms of contemporary adult life seemed to be one of the main factors that had attracted people to Sprague's call for ax wielders.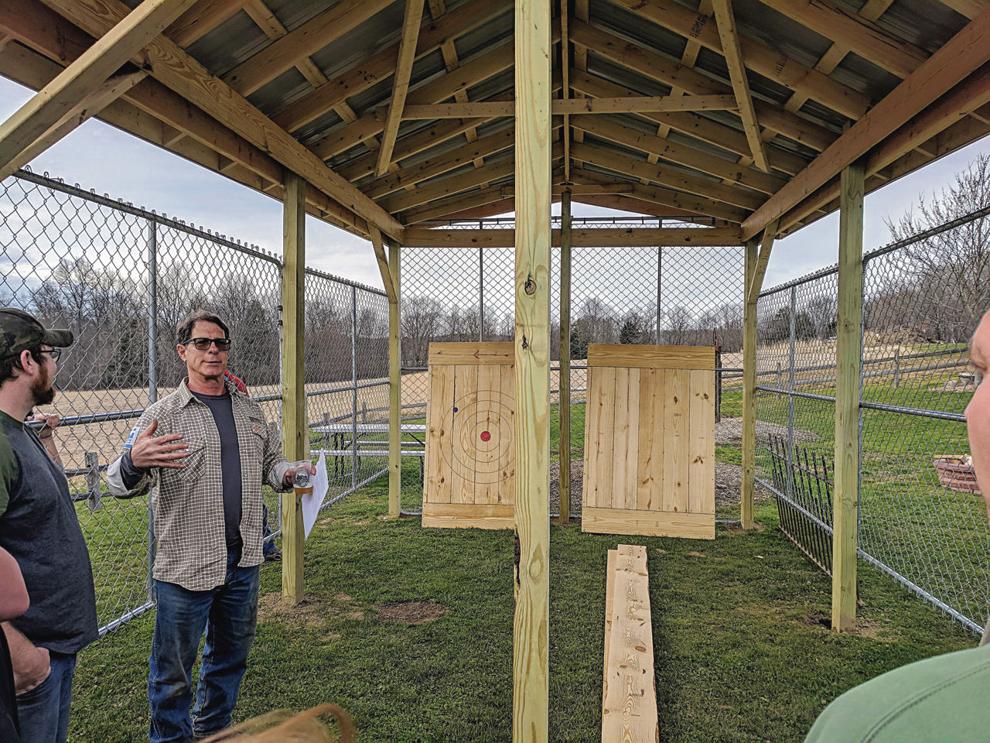 "It's that thing of getting back to our animalistic styles in life, basically," said Jim Merry, 43, of Cambridge Springs. "I work all week, I run a business. ... I'm always looking for that (feeling of), OK, let's get back to what my great-grandfather did."
Ax throwing fills a need that can't be satisfied online, according to Merry.
"I need something to push me harder because day-to-day life is pretty boring," he said. "You've got social media — I don't want any of that. Go home, I don't want turn on Netflix. I want to go out and do something."
As determinations were made regarding follow-up emails, start times for this week and other club-related minutiae, some participants headed back to the bar, others headed home. Several, however, made their way back to the throwing lanes as one grabbed a tomahawk from his car. The siren call of flying axes proved irresistible — there would be some ax throwing after all.
Waiting his turn, Adam Butti, 36, of Edinboro said the appeal of ax throwing was similar in nature to pool, darts and bowling — other potentially dangerous sports involving projectiles and often played in the vicinity of beer.
"It's a good way to unwind," Butti said.
As the last of the ax-throwing stragglers departed, the lanes were left empty, perhaps affording Sprague, who lives at the farm, an opportunity for more practice. Although he's excited about the prospect, he doesn't have much experience throwing axes.
"My wife has stuck the ax more times than I have," he said, "but I'm looking forward to being a participant."
Mike Crowley can be reached at 724-6370 or by email at mcrowley@meadvilletribune.com.