"There is no time for waiting, (even) when it is calm and breezy. As you see, in a moment, everything changes."
Such were the fitting lyrics that the choir sang at the inauguration of Allegheny College's 22nd president, Hilary L. Link.
Attended by hundreds, the formal ceremony took place Friday evening at Shafer Auditorium on Allegheny's campus. Link, who began her tenure as president on July 1, is the first woman to hold the office in the college's more than 200-year history. Past presidents Daniel Sullivan, Richard Cook and James Mullen were also in attendance Friday.
Link brings more than 20 years of experience in higher education to lead the college, having worked as an administrator and professor at large public and private universities as well as small private colleges. Most recently, she served for six years as dean of Temple University's campus in Rome, leading initiatives that increased enrollments to the highest in the history of the campus.
When she was installed as the president, her husband, Jeffrey, had a humorous bit of trouble placing her academic hood about her, but she remained unfazed as the audience chuckled.
In her inaugural address, Link spoke of her scholarly background in art history and Italian literature as a gateway to new perspectives and ways of seeing.
"I have come to understand that there is often more than one way to see a topic, a challenge or a human condition," Link said.
Link pointed to the greats of the Italian Renaissance as being innovators in a wide variety of disciplines, the walled world in Lois Lowry's novel "The Giver" and her own experiences living outside the U.S. as examples of better understanding and appreciating differences and connecting with others.
"To me, being secure in your knowledge base, beliefs and approach to the world and yet flexible enough and humble enough and respectful enough to try to understand someone else's perspective is what we can gain from a truly interdisciplinary liberal arts education," Link said.
She ended her address by saying the college could be "bolder" in discussing its strengths on several scales and hoped others would join her on "the journey in the years to come."
"She is a bold thinker, interested in bringing important voices and ideas to the table as part of Allegheny's legacy of innovation," Mary Feeley, a member of the college's Board of Trustees, said in welcoming remarks. "From the inception of the college, inspirational women have served as strong contributors to and influencers at Allegheny."
Feeley quoted one of the college's most famous graduates, journalist Ida Tarbell, who said, "Imagination is the only key to the future. Without it, none exists. With it, all things are possible." Feeley said Link "embodies" that legacy.
Meadville City Manager Andy Walker spoke on behalf of the city, welcoming Link to the community and hoping she would carry on the defining "leadership and excellence" of the college that puts "Meadville on the map."
"We hope that Allegheny College, under your guiding hand, will continue to level this hill that might geographically or metaphorically divide us and empower the students and faculty to see and experience the world through everything Meadville has to offer," Walker said.
Melissa Mencotti, Allegheny's director of gift planning, discussed the influence of former Allegheny president William Crawford. Through 27 years, she said, Crawford expanded the campus with the addition of eight facilities and significantly grew the faculty, enrollment and endowment.
"The scope or pace of (change) is greater than it was when President Crawford served 100 years ago," Mencotti said to Link. "But turbulent times bring great opportunity for creativity and growth, and as our first president to take office in the college's third century, this is your moment to shape its course."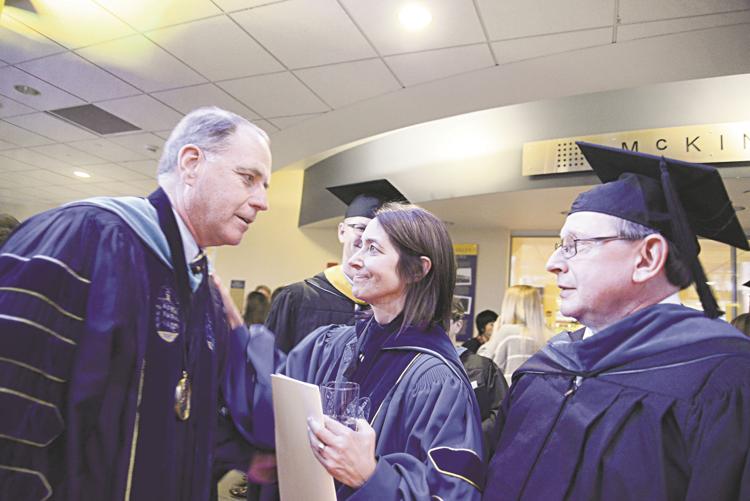 Gregory Ward, the college alumni council president, gave remarks representing 24,000 living alumni and pledged his support on their behalf. Allegheny's Student Government President Jason Ferrante gave a speech, noting it wasn't until 1870 that women were admitted to the college and at the time, the college cost "just under $30 a semester" to attend.
"I was struck by (Link's) genuine passion for students and for this institution," Ferrante said of meeting the future president during the search committee process.
Political science and international studies professor Shannan Mattiace spoke about the contributions liberal arts colleges make to "the health of our democracy" through reason, knowledge and skills put forth for "the common good."
West Point English Professor Elizabeth Samet, a friend of Link's since the seventh grade, also gave remarks, recalling years studying Latin with Link.
She spoke about the usefulness of a liberal arts background in preparing for unknown future responsibilities. Samet noted that Gen. Ulysses S. Grant's knowledge and interest in mathematics, horses, novels and drawing gave him unexpected advantages in leading the Union army during the Civil War.
She said of Link, "She is exactly where she needs to be."
Tyler Dague can be reached at 724-6370 or by email at tdague@meadvilletribune.com.