On a drizzly gray Saturday afternoon last weekend, Austin Brown was where he can often be found when he's home from Penn State University: inside his family's sheep barn.
Nearby, 45 brood ewes relaxed on straw bedding in the barn's largest pen. Two rams, a 2-year-old Texel and a 1-year-old Shropshire, were more curious inside their smaller pen next to the ewes. The black-faced Shrop in particular wanted a better look at the visitors to the barn, even if it meant rearing up on his hind legs against the rear wall of the pen.
The Shrop — and anyone else who wants a glimpse of Brown — had better act fast. Thanks to his passion for agriculture, the 2017 Saegertown Junior-Senior High graduate and 2017 Pennsylvania State Junior Fair Person of the Year is going places.
Places like Boston and the Chinese cities of Hangzhou, Shanghai, and Beijing last summer and the U.S. Meat Animal Research Center in Clay Center, Nebraska, and the Midwest Stud Ram Sale in Sedalia, Missouri, next summer — not to mention a May-term class in Ireland on sheep and dairy production and traveling with the Penn State Livestock Judging Team and Block and Bridle Club throughout the spring.
At home in the barn on Saturday, Austin's father, Rob Brown, acknowledged that the young man beside him, who has been working with the family's sheep since about the time he could walk, might have a future in the field.
"I wasn't necessarily excited about him being in agriculture," Rob Brown said, despite the fact that he and his twin brother have been raising sheep as a hobby since 1975. What made for a rewarding-though-demanding hobby, Brown worried, might not prove a wise long-term path.
"It's just not a good time to be in agriculture, I don't think," Rob Brown said. "I didn't disagree with it, I just, you know — as much as I'm in agriculture, I didn't choose it as a career, and I was hoping he didn't make a mistake, but he's doing well with it."
Well enough to land one of six paid fellowships with the Pigs, Poultry, the Planet, and data-driven Problem Solving Summer Fellowship Program at North Carolina State University last summer. The U.S. Department of Agriculture-sponsored "P4" fellowship not only helped Austin develop his understanding of precision livestock farming and the data analytics skills needed to drive it, the program also funded his travel to Boston where he presented the results of his summer research, and China, where he toured agricultural universities and cultural sites and was introduced to Chinese food animal production systems.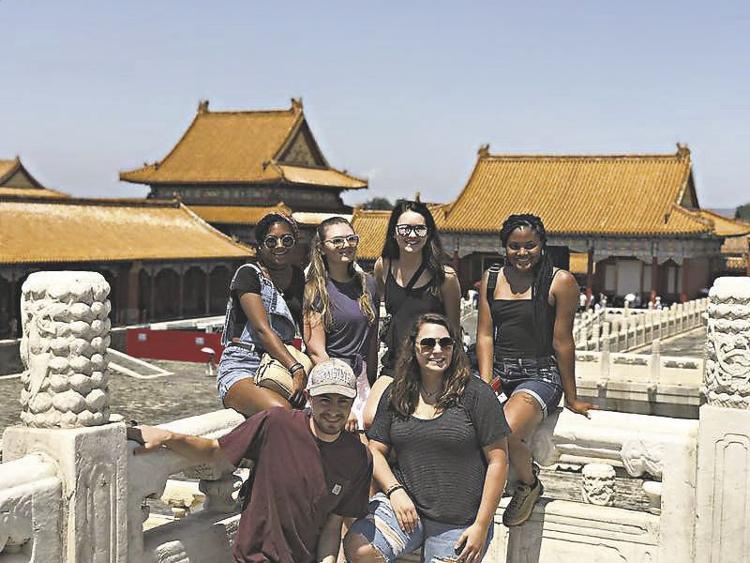 "I could definitely see his passion for the topic," said Mahmoud Sharara, professor of agricultural and biological engineering at N.C. State. Sharara guided Brown's summer project — an analysis of agricultural land use in the U.S. and how it evolved in the decades following World War II using data from the Census of Agriculture conducted every five years and GIS mapping software.
"I was lucky Austin was the mentee I worked with. He was definitely a bright, excited fellow," Sharara said.
For Brown, the excitement comes largely from the work. The travel is nice, too, but at times overwhelming, especially in the more urban locations he visited. As he and the rest of the P4 group approached Tiananmen Square in central Beijing last summer, the crowds grew larger and larger, he recalled.
"When I went to Penn State, I thought there were a lot of people there and that was a transition," he said, "but going to Beijing, there were just people absolutely everywhere — it's crowded all the time."
The trip also took the group to the Great Wall near Beijing and West Lake, a UNESCO World Heritage site near Hangzhou, where they saw temples, pagodas and gardens dating back a thousand years.
While the city crowds were not for Brown and the celebrity-like treatment from Chinese youngsters who wanted to practice their English-language skills eventually grew wearing, Brown was more at home touring agricultural universities and facilities.
The facilities were generally a few decades behind the precision techniques he was learning about in the U.S., where sophisticated technology — even including cow-recognition software — allows ag engineers to track individual food consumption among large herds. There were still valuable opportunities, though, like talking to academics on the front lines of research into African swine fever, which has devastated the Chinese pig population in recent years.
Brown made the most of the visit while he was there, sampling as many unfamiliar culinary options as possible.
"They get a big kick out of feeding Americans weird stuff," he said.
Brown's willingness to try virtually anything his hosts recommended won him the appreciation of one Chinese professor in particular, who recommended a sandwich not common in the U.S.
"I entertained him and I tried it," Brown recalled. "It wasn't the best thing I've ever had before. It was really lean, but I ate it just for the experience."
It's not everyday a northwestern Pennsylvania native gets a chance to have a donkey sandwich.
"At least," he said, "that's what they told me — I'm not really sure what it was."
Brown is on surer ground in State College, especially since moving to student housing in the Beef and Sheep Center as a sophomore. Now a junior, the animal science major isn't certain exactly where his path will lead him beyond his planned work at U.S. MARC next summer, but he knows it will involve animal breeding and genetics.
"Agriculture is my life," he stated simply. "It's in my blood."
Mike Crowley can be reached at 724-6370 or by email at mcrowley@meadvilletribune.com.