The effects of the COVID-19 coronavirus can be witnessed everywhere. Shops are closed down, offices are empty and many people are stuck at home wondering how they'll pass the time.
Several Crawford County people have used their new-found free time to help the medical professionals who are on the front lines of battling the disease.
Cheryl Weiderspahn has taken to making homemade face masks, with the intent of donating them to the Meadville Medical Center. Weiderspahn said she felt a "drive to do something" while she remained otherwise at home as part of the social distancing policies encouraged by various government institutions to help contain the spread of the virus.
"A couple of days ago, I saw online that people were making (masks) and it piqued my interest, because I'm a seamstress by trade and love to help people," she said.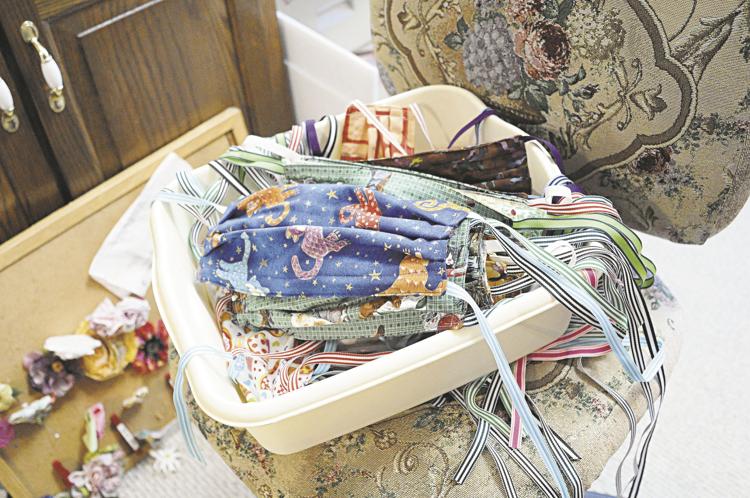 Weiderspahn, looking for a way to donate the masks, reached out to Crawford County Commissioner Christopher Soff, who in turn connected her with Tami Farrell, director of quality, safety and regulatory accreditation at the Meadville Medical Center. Weiderspahn made a prototype mask, which Farrell tested and offered suggestions on how to tweak it until a final design was settled on.
"She was very thrilled to receive these," Weiderspahn said. "They need them desperately. They're getting only a fraction, a small fraction" of the personal protective equipment.
Farrell explained to the Tribune that the face mask shortage is due to two factors. One is the simple matter of there being a greater need for the masks during the virus outbreak, meaning more are being purchased and supplies are running low.
The other factor is weeks in the making. Farrell said masks and most other personal protective equipment (PPEs) are manufactured in China, the initial source of the COVID-19 outbreak. Production of such equipment had already taken a pause in January during the Chinese New Year, but then the virus spread elongated that pause.
As it takes several weeks before those masks make it from China to the United States, that stop in production is only being felt now. Farrell said the hospital receives an allotment of PPEs based upon utilization usually, but such allotments have been lower than usual recently due to the pause in production.
While Meadville Medical Center currently has a supply of standard N95 masks, one which Farrell hopes will be enough to last the entire length of the pandemic, there is no guarantee of that. Homemade masks like the ones Weiderspahn is making will be used as backups should the regular masks run out.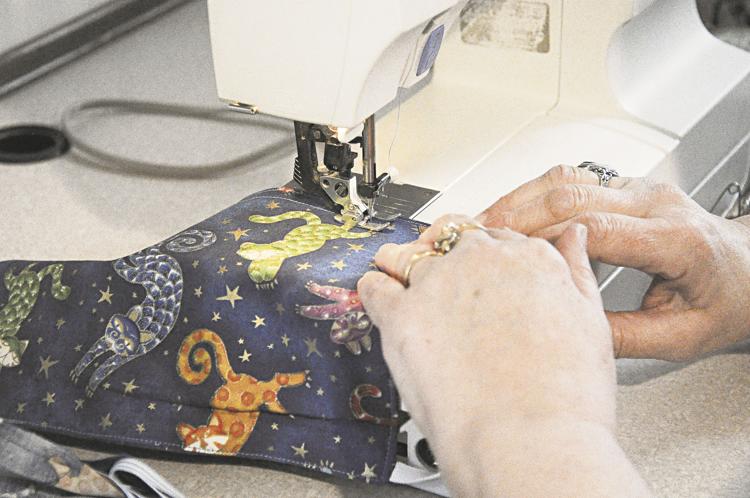 Farrell said other kinds of PPEs are in short supply — such as goggles, gowns and gloves — but the masks represent the most eminent need for the hospital.
Tutorial video
Although certainly capable of creating many masks herself, Weiderspahn doesn't plan on going alone in helping the hospital. She's made a tutorial video on how to make the masks and posted it to her Facebook page and on YouTube.
Each mask takes around 12 minutes to make, according to Weiderspahn. They must be made from tightly woven and high-quality 100 percent cotton fabric. Straps can be made from various materials, including four 16-inch long narrow ribbons or two 7-inch long elastic straps, so long as the straps can survive going through the wash multiple times.
Weiderspahn encourages those interested in helping to use material they have at home, rather than heading to the store to buy some.
"At this particular time, we need to stay in our homes and use what we have on hand or what we can gather from friends who have an abundance," she said.
Unlike typical medical masks, the homemade masks can be reused multiple times with proper washings. Farrell said each mask undergoes a sterilization procedure once it is made, and the hospital is developing a rewashing procedure should the masks come into use.
Since putting up the video, Weiderspahn said she has received countless offers of help and requests for masks. The Titusville Ribbon Factory has donated several yards of narrow ribbon, which can be picked up at the front porch of Homespun Treasurers Gift Shop, located at 509 Route 322 near Carlton.
Weiderspahn said she's even had people from other states reach out wanting to help donate a mask. In those cases, she encourages people to make the masks for their local medical offices.
Anyone who makes a mask and wishes to donate it can drop it off at the complex owned by the Meadville Medical Center located at 421 North St. between 7:30 a.m. and 4 p.m. Monday through Friday. Those who provide masks should ring the doorbell, drop off the masks and then back away from the door so as to minimize contact with the medical workers.
Masks may also be mailed to the Meadville Medical Center at 751 Liberty St., Meadville, PA 16335 and written to Farrell's attention.
Not the only one
Weiderspahn isn't the only one who is offering help to medical institutions in this time of need. Richard and Laurie Freysinger, owners of Harmony Formals, have been hard at work turning their novelty fabric into face masks, enlisting the help of their son Spencer as well.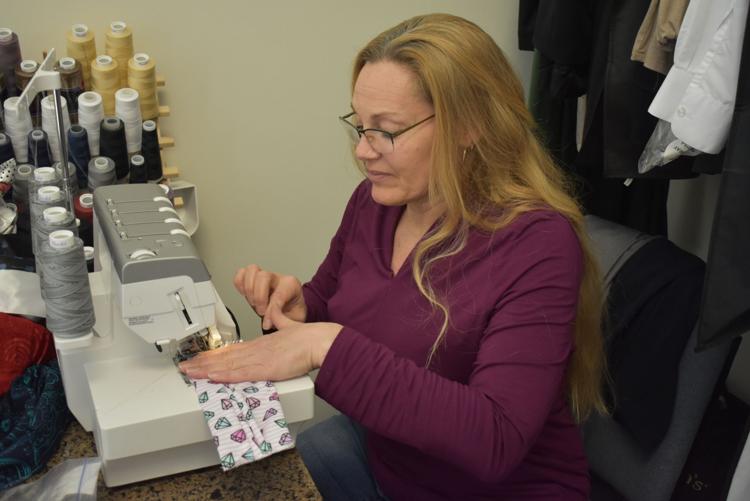 The masks made by the Freysingers initially were meant for Allegheny General Hospital in Pittsburgh, where Alaina Eisenhooth, Laurie and Richard's daughter, works as a nurse in the intensive care unit. The couple has since expanded and plans to give to other institutions.
Some are headed to the Woodcock Animal Clinic, as the clinic staff had donated many of its own masks to Meadville Medical Center. The Freysingers have also had people from other areas reach out to them asking if they could receive a mask, including a nurse in Bedford.
The family has declared that it will make as many masks as it can and donate all of them. Using a process not unlike an assembly line, Richard, Laurie and Spencer each do one small part that leads to the creation of a mask. While it takes them around seven to 10 minutes to make a mask, Richard said it's still "longer than (they'd) like."
As the fabric at Harmony Formals is more decorative than it is entirely practical, the masks made by the Freysingers are decorative and can come out with humorous designs.
"Somebody's going to get a flamingo mask, someone is going to get a trout" mask, Laurie said. She further elaborated that the family plans to do a line of superhero masks, hopefully as a way to lift some patients' spirits.
While glad to help out, Laurie has had some stress over the whole ordeal. As a perfectionist, she's used to making sure every stitch and line on the clothes she makes are straight and neat. With the masks, it's a different story in a time of crisis.
"I was like 'Ahhh, I have to make it perfect,'" Laurie said. "No, you need to make a lot."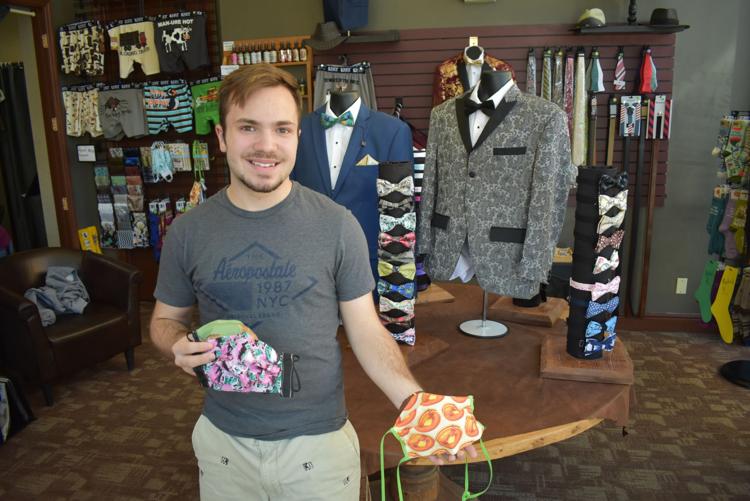 Meanwhile, Mike and Julie Foulk, co-owners of Foulk's Flooring America, have donated 640 N95 masks to Meadville Medical Center.
"We had an extra surplus, and with us being shut down, there's no need for us right now, so we decided to give it to them," Mike said of the donation.
"They need it more than we do," Julie said.
The N95 masks, a standard for hospital equipment, are also used by carpenters such as those at Foulk's Flooring.
Farrell said there have been many other forms of donations from local businesses, and the hospital has even reached out to some local manufacturers to see if they could make face shields during the pandemic. Whatever form the donation takes, it is a major benefit for the hospital.
"We're so appreciative in regards to how the community is coming together on this," Farrell said at the end of her interview with the Tribune, before throwing in one final thought.
"And wash your hands."
Sean P. Ray can be reached at 724-6370 or by email at sray@meadvilletribune.com.