If any hockey fan wants to question the toughness of a goalie, let him do what Meadville goalie Jordan McCurdy did for the Bulldogs on Monday.
"The toughest thing I have ever seen," said Meadville head coach Jamie Plunkett.
McCurdy woke up Monday morning, went to school and made it known he was going to lead his team on the ice later in the evening. That, of course, was not the tough part. McCurdy did all of this with the knowledge that his mother, Pam, lost her long battle with cancer earlier in the morning.
"I told him (Sunday) at practice that I was going to start him," said Plunkett. "We got word at 8 a.m. that Pam had passed. But he went to school and let it be known he was going to play in honor of his mother. There was no way we were not going to let him go. The whole team rallied around him through this illness and wanted to play well for him."
Needless to say, it was an emotional evening at George S. DeArment Ice Arena, one that saw McCurdy help his team beat a tough Kiski Area squad 11-5.
"It just takes things off my mind," said McCurdy. "The boys needed me, and I knew it. So I came out here to help them. And they helped me out a lot."
Ironically, McCurdy may have been the one person able to control his emotions the best.
McCurdy played because he knew his team needed him. Well, his teammates wanted to do everything they could to help their teammate in his time of need. It led to some extra curricular activity that included a fight and 30 penalties.
"We knew (Kiski) scored a lot of goals," said Plunkett. "But we also knew they took a lot of penalties and gave up a lot of goals. I think we were a bit amped because of wanting to play well for Jordan. That led, I think, to some bad penalties on our end."
Despite all of that, there was some good hockey.
Nick Frantz scored six goals and had a pair of assists. Luke English added four goals and two assists. And the goals they scored came at big moments.
Kiski's Austin Lapiana scored the opening goal to give his team the early momentum. English tied it a minute later, then Frantz scored twice to give the home squad a 3-1 lead after one.
Meadville quickly took a 7-2 lead in the second period before Kiski scored again to make it 7-3. Shortly after that came the fight. And, 30 seconds later Frantz scored his fifth to push the lead back to five (8-3).
Kiski didn't throw in the towel just yet and scored the opening goal of the third period. This time English came right back and took away the last bit of momentum the Cavaliers could muster with his third of the game to make it 9-4.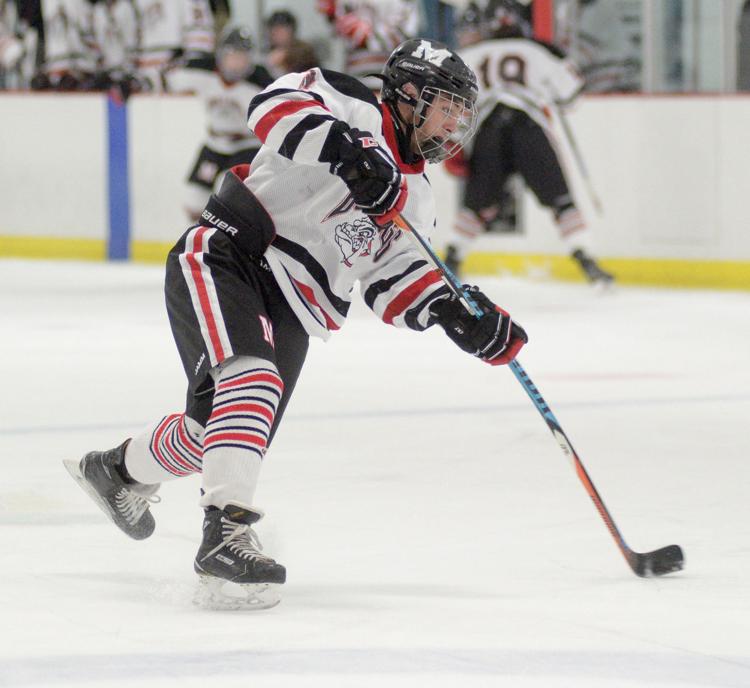 "Last year I was not the highest scorer but I always tried to work my hardest," said English. "I am in charge of just weakening the team and making them tired."
From there, English and Frantz each scored once, while Lapiana scored his third to account for the final.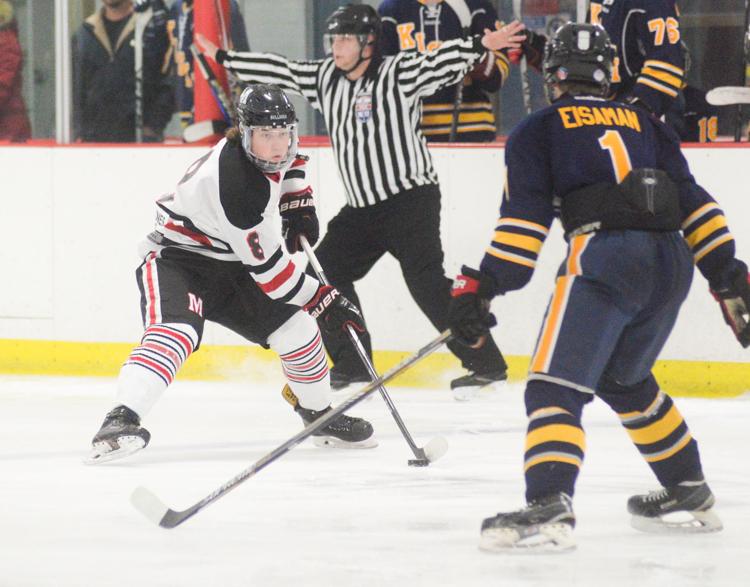 "When you come into a game against a player like (Lapiana)," said Frantz, "you look at the stats and you see (that a team) has a good player and you want to be your team's best player too. When facing those top players, you really strive to play your best. I think a team wants to play its best against top teams as well."
Meadville's other goal was scored by Brandon Gregg, who also had an assist. Dillon Steiner, Cohl Weber and Ben Meure each had two assists. Axel Jager, Brendan Leech, Alex Ott and Cole Potase each had an assist.
A match misconduct was given to Meadville's Cooper LeGuard for removal of his helmet — even though it was ripped off by an opposing player. Kiski Area had a player sent to the locker room for an obscene gesture and another removed for abuse of an official as the game did get ugly in spots.
The one thing that was not ugly, however, was how the Bulldogs players and fans backed their goalie.
"I think (the crowd) was the biggest it's been in years," said McCurdy. "I had a lot of family and friends here. And I think that helped push us to play harder. When we scored it was loud. When there was the fight, they were in our corner. That helped a lot in the long run."